The fact that you find yourself reading this article is probably an indication that you are already convinced of the huge benefits of grinding your own beans. Pretty well across the board, baristas will tell you that the quality of your coffee will never exceed the quality and consistency of your grind.
What this means is that if you are serious about brewing coffee then investing in a decent burr coffee grinder is absolutely essential. And we used the word invest very deliberately. A good quality electric coffee grinder doesn't come cheap.
In this article we are going to attempt to persuade you that getting a reliable burr coffee grinder may be the most important coffee decision you need to make.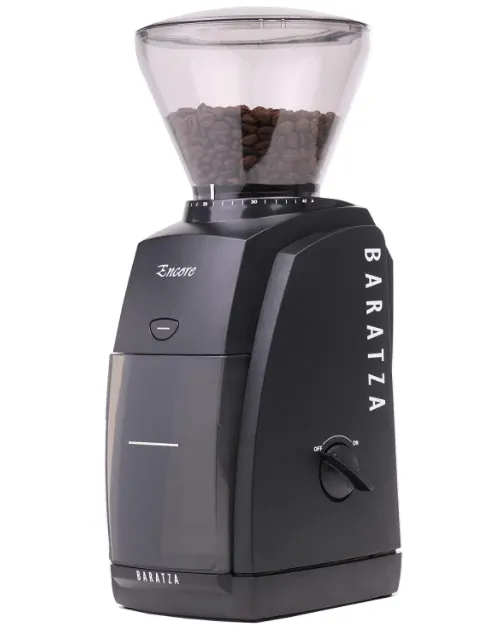 The Baratza Encore is a terrific option for those looking to up their coffee game across a range of brewing styles. We would contend that it is the best coffee grinder at this price bracket. Additionally, it comes from a highly respected coffee company. But best of all it is well known to grind accurately across a range of manual brewing styles for a very affordable price.
Why Grind Your Own Coffee Beans?
Some people may still be thinking ' Why do I need to grind my own beans?' Can't I just buy pre-ground coffee from the local grocer (a bad idea already!) or even from a local coffee roasters?
The short answer is yes you can but it won't taste as good. And the reason is that almost as soon as beans are ground, they begin to lose aromatics and flavor distinctives.
Many people don't realize but coffee beans are really fresh produce, and as produce they go stale. This is why cafes, almost without exception, grind on demand. Freshly ground beans = maximum flavor.
There are basically two benefits to grinding your own beans:
Maximum Flavor – As noted above, beans begin to release aromatics and degrade almost as soon as they are ground. So to extract the most flavor and subtle nuances of different beans you really need to grind immediately before brewing.
Adjustability – As any barista will tell you, one size does not fit all when it comes to coffee grind size. So for example the grind size you need for Aeropress is radically different from what you need for French Press or Espresso. And even for a single brewing method the grind size may change depending on the beans used. A quality burr coffee grinder allows you to experiment to find the perfect grind size for each bean. If you are trying to figure out grind sizes for different brewing methods see our Guide to Coffee Grinding with Grind Size Chart.
So basically, the advantage of grinding your own coffee beans with a burr grinder is better flavor, and the ability to adjust grind size.
The Best Burr Grinder For 2021
Baratza Encore
The general rule of thumb when it comes to burr grinders (or just about anything for that matter!) is that you have to pay for quality. The Baratza Encore is the outstanding exception to the rule! This highly capable conical burr grinder houses the exact same motor as its more expensive older brother the Virtuoso at a cheaper price. The Baratza Encore is really designed to be a quality burr grinder that is both affordable and intended for home brewing set ups.
Baratza have a long and well deserved reputation for both lasting quality and excellent customer service. And both the Baratza Encore and the Baratza Virtuoso certainly live up to this reputation.
In terms of performance the Encore is very easy to use with an adjustable hopper that can rotate between 40 numbered settings from most fine to most coarse. But more importantly it does grind well and consistently at a price that is utterly affordable.
The other great thing about this grinder and why we still recommend it is that after a few years it still holds its reputation of reliability and the burr grinder of choice for manual brewing methods (everything but espresso).
There is a marked difference in quality between this grinder and many of the other burr grinders on this list, and part of the reason for this is that Baratza is all about coffee grinders. They are not a general kitchen or even coffee company branching into grinders, but instead a business which majors on grinders. This means they know the value of quality burrs, and they understand grinding and grinders in a way that many of the others don't.
The Baratza Encore is a superb grinder and our pick for the best burr grinder. See our in depth review here.
Baratza Virtuoso+
The Baratza Virtuoso+ is the Baratza Encore's big brother with the same great functionality plus some great features. As opposed to the Baratza Encore, the Baratza Virtuoso+ has far more metal in the design making for a heavier base (which is helpful in a coffee grinder). In addition, it has a digital timer with an LCD interface as well as a slightly quicker and more heavy duty set of burrs.
This makes the Baratza Virtuoso+ a terrific option for the coffee connoisseur who is willing to pay a bit more for quality. Perhaps the greatest point in favor of the Baratza Virtuoso+ is that this is arguably the single most common home grinder owned by baristas. This new model of the Baratza range is reliable, produces a great grind, can cater to a wide range of brewing methods, and is known to last for years. Again it is worth noting that this is a grinder for everything but espresso.
Again Baratza is well known to make some of the best coffee grinders around, so a Baratza grinder is always a safe choice. See our full review of the Virtuoso+ here.
Fellow Ode Coffee Grinder
The Fellow Ode coffee grinder was probably the most anticipated coffee grinder in 2020. It was designed and produced by Fellow who are well known for aesthetically pleasing coffee equipment that are of a high quality. Part of what sets apart this grinder from others on this list is the intentional choice for it to be a coffee grinder specifically for filter coffee.
The Fellow Ode will struggle with the fine grind required for Moka Pot or Espresso, or the coarse grind required for French Press or Cold Brew. This is a filter coffee grinder for soft brew coffee makers such as the V60, Kalita Wave, Aeropress, Chemex or others.
It uses interlocking flat burrs and is controlled by a PID motor for optimal consistency. This coffee grinder has been out for a few months now and has generally been well received. The biggest negatives associated with it is that some feel it can't grind fine enough and also that it really is pricy for what you are getting. However it is a stunning looking coffee grinder with a small footprint and enough hype to sink a ship. For a more comprehensive review see our article here.
Breville Smart Grinder Pro
The Breville Smart Grinder Pro is all about flexibility in function and its tech savvy look. This is a relatively new coffee grinder on the market but is quickly growing in popularity with its impressive 60 grind settings and its timer which regulates the time of dosing down to 0.2s increments. The digital interface is relatively user friendly and to be honest just looks great on the bench top!
This grinder comes with both a grinds container as well as large and small portafilter cradles which are super helpful for espresso. While this machine is not an espresso grinder, its wide variety of grind settings means that it is more than capable for entry level espresso machines. The Breville smart grinder pro is a great option for the coffee enthusiast who loves anything digital and is looking for a coffee grinder to cater to a wide range of brewing styles.
Breville is a general kitchen appliance company based out of Australia that have branched out into coffee related goods. Usually this is a red flag and the lack of specificity translates into a general mediocrity. But the Breville smart grinder pro and other coffee products are the marked exception. Having owned two of their espresso machines, we can safely say that they have done their homework well and make quality coffee brewing gear. See our in-depth review here.
Rancilio Rocky
This heavy duty machine is a commercial grade grinder for home use. Of the grinders reviewed in this article, the Rancilio Rocky is for the espresso fanatic who is willing to pay for quality. This is an espresso grinder with commercial grade 50mm flat plate burrs and an impressive 1725 RPM.
This is actually the espresso coffee grinder we used for a number of years and we highly recommend it. It is just a workhorse that deals comfortably with heavy use and has great grind consistency.
The Rancilio Rocky is all about quality that would be appropriate in a café, a high quality motor that is powerful and quiet, and the capacity to deal with a high volume of use. This espresso grinder comes with both doser and doserless options. We recommend the doserless option as it is better for home use and easier to clean.
And if you make the great choice of investing in one of these bad boys, don't be surprised to find coffee dust in the machine when you get it. Every grinder shipped out is factory tested to ensure reliability.
Again this is the grinder that we used for espresso for years and absolutely love! We would say that this is one of the best coffee grinders for entry level espresso out there! You can see our more comprehensive review here.
Capresso Infinity Grinder
What really makes the Capresso Infinity stand out is the way it excels at super fine grinds. In fact while this is one of the least expensive coffee grinders on this list, it is the only one that can capably grind fine enough for Turkish coffee. So if Turkish coffee is your thing, then the Capresso Infinity is the coffee grinder for you.
This tidy burr coffee grinder has four major settings (extra fine, fine, medium, and coarse) and then four further settings under each. Also it is worth saying that this coffee grinder, like the Baratza Encore, is very affordable. See our in depth review here.
Understanding the World of Coffee Grinders
If you have begun to enter into the world of grinding your own coffee beans you will realize that it can be a complex and jargon-filled world. People will talk about a doserless espresso grinder with flat plate burrs at 750 RPM without blinking an eyelid!
So to help you out we will briefly navigate some of the common terminology.
Burr Grinder vs Blade Grinder
The most important thing to know here is you need a burr grinder and not a blade grinder! Blade grinders are kind of similar to the blenders you have in your kitchen and use a metal blade to slice up the beans. The problem with a blade grinder is that the metal heats up and can partially roast the beans. Similarly, a blade grinder often produces very inconsistent grinds which leads to poor extraction.
Burr coffee grinders, by contrast, crush the beans between two revolving ceramic or metal rings leading to a far more uniform grind. There are two different types of burr grinders; flat and conical burr grinders. Flat Burrs tend to be found in more expensive high end grinders, while conical burr grinders are more common at the entry level.
The long and the short is that a quality grinder of either type will provide a consistent grind but coffee enthusiasts love debating the pros and cons of each.
Another important thing to note about burrs is that there is such a thing as fake burrs. These are basically blade grinders in disguise. The general rule of thumb is be suspicious of any automatic burr grinder under $100.
All burr grinders will also have an RPM (Revolutions Per Minute) speed. The higher the RPM the more consistent the grind which is good, but also the more potential for heat which is bad. Flat plate burrs however are able to deal with higher RPMs. So flat burrs tend to have higher RPMs while conical burrs tend to be lower.
Manual Grinders vs Automatic Grinders
There are basically two styles of coffee grinders; manual grinders and automatic or electric burr grinders. This article only deals with automatic grinders. In general an automatic grinder is preferable for ease of use and convenience but is more expensive. While a hand grinder is preferable for portability and price but requires the old elbow grease.
As noted, price wise there is no doubt that you get better grind consistency for price with a manual grinder. For example a $100 hand grinder will produce far more even particle size than a $100 electric grinder.
The other advantage of automatic grinders is that they don't need to be cleaned after every use (and less coffee grounds around is always a good thing!).
Espresso Grinders vs Multifunction Grinders
Another important consideration in buying a grinder is what brewing methods you will be using it for. There are basically two types of burr grinders; an espresso grinder which can cater to the fine grind required for espresso, and a multifunction grinder which can grind across a range of brewing styles but often struggle to go fine enough for espresso.
The rationale behind this divide is that because espresso uses the highest pressure and has the shortest extraction time, it requires the most precision in grind size. An espresso grinder must be able to repeatedly grind to a uniform consistency, as well as having the capacity to make extremely fine adjustments to the grind. Espresso grinders tend to use flat plate burrs and have high RPMs.
Multifunction coffee grinders intentionally cater for a wide range of brewing styles. These grinders intentionally offer a wide range of grind settings and advertise as across-the-board grinders which can do everything from pour over to cold brew. These machines can also generally grind fine enough for entry level (under $500) espresso machines but will be found lacking for the real espresso enthusiast.
In terms of the grinders reviewed on this article, the Rocky Rancilio is the only espresso grinder, while the Baratza's, Fellow Ode and the Breville grinder would be considered multifunction.
Doser vs Doserless Models
In researching the coffee grinders you will regularly come across the terms doser and doserless. These terms basically refer to the means by which the ground coffee is distributed.
A doser is a pie-shaped chamber that collects ground coffee and releases it on the pull of a lever. This is particularly helpful in commercial settings as it is a lot faster than doserless and each "dose" distributes roughly the same amount of coffee.
Doserless grinders have no such chamber and grind immediately into your portafilter or attached coffee container. The advantage is that the coffee is always completely fresh while the downside is that it is somewhat slower.
Most home grinders tend to be doserless and "dose" the coffee with either a pulse button which you hold down for as long as required, or a timer function which allows the user to walk away while the the coffee grinds. (As a side tip, the timers are generally far less reliable and accurate than they claim!)
Number of Grind Settings
You will notice that the various coffee grinders offer anything from 16 to literally hundreds of grind settings. So how many do you need? Well again it depends on what brewing methods you will be catering to, and what size ground coffee it requires.
As a general rule of thumb you will need:
The Verdict- The Best Burr Grinder
After reviewing the above machines we believe that the Baratza Encore is the best coffee grinder for the coffee lover who uses multiple brewing styles.
This grinder punches above its weight, grinds excellently, and best of all is completely affordable for even the entry level coffee lover. The only downside is that it can only really do espresso for entry level machines.
Alternatively for the espresso lover who will be brewing mainly on an espresso machine priced above $500, we recommend the Rocky Rancilio. This grinder is commercial grade, has a history of durability, and can deal well with regular use and heavy volume.
Happy Buying!