The Breville Smart Grinder Pro has been given the title by several reviewers of being the jack of all trades but master of none.
From all appearances the Breville Smart grinder looks like an attractive, high tech grinder at an amazing price. But is it too good to be true? How does the grind consistency and functionality stack up? In this article we will consider the Breville Smart Grinder Pro and see whether it is a good option if you are beginning your foray into the world of coffee.
Breville bcg820bssxl Smart Grinder Pro
In short, the Breville Smart Grinder Pro is a good entry level grinder, that excels at espresso. At this price point you won't get any better. However the grind consistency particularly at coarser grind settings is somewhat lacking and the high tech features can be somewhat of a nuisance. If you are looking for an entry level espresso grinder at an affordable price then the Breville Smart Grinder may be for you.
Specifications
Breville Smart Grinder Review
Grind Consistency of the Breville Smart Grinder Pro
The single most important consideration in purchasing a coffee grinder is grind consistency. To summarize a lot of technical theory, basically the more consistent the particle sizes of the ground coffee the more even the extraction and the nicer the taste. The grind consistency really comes down to the quality of the burrs used. So how does the Breville Smart Grinder Pro stack up? The Breville Smart Grinder has 40mm Conical Steel Burrs that offer good grind consistency.
The Breville Smart grinder is really aimed at those looking to grind for espresso at an affordable price. And for the medium to fine grind settings the Breville coffee grinder has relatively good grind consistency. However the grind consistency decreases with the coarseness of the grind. If you are comparing it to other grinders you will find that it can't grind as fine as the Rancilio Rocky grinder or match the coarseness of the Baratza Encore. So if you are looking to use the Breville Smart Grinder for espresso or pour over this might be worth investing in. However, if you are looking to grind for french press or cold brew it might be better looking elsewhere.
Grind Settings of the Breville Smart Grinder
The Breville coffee grinder offers an impressive 60 grind settings ranging from espresso to french press. This is a wide enough range to be able to brew for any method. However as we mentioned above there is some lack of consistency with the grinds at coarser levels. Most of these settings lie within the medium to fine range making it good for drip, pour over and espresso. In terms of using it for espresso the grind adjustment, while stepped, is good enough in the espresso range to really dial in shots. Breville recommends starting at a grind setting of 12 for espresso and adjusting from there. Breville has also included 2 removable portafilter holders (one for 50-54mm and one for 58mm portafilters) making it easy to grind straight into your portafilter.
The Breville Smart Grinder also has an adjustable upper burr enabling you to make a further 10 micro adjustments at each grind setting, which is particularly helpful if you are dialing in beans for espresso.
The grind adjustment system is very intuitive to use. You simply turn the dial on the side of the grinder to your desired grind level which is displayed on the LCD screen.
Breville Smart Grinder Pro Settings
Build quality of the Breville Smart Grinder Pro
Overall we would say the Breville Smart Grinder Pro is well designed, with multiple nifty additions to make it user friendly. The Breville Coffee Grinder has an attractive stainless steel design available in brushed steel, black or red. The build quality feels good, with it having a decent weight to it, keeping it stable during operation. However the electronics are not always good when it comes to durability as there are a lot of parts that can break down. And often it is difficult and expensive to replace them.
While the exterior looks good, unfortunately much of the interior of the grinder is made of plastic. Earlier models had an issue with the impeller, which is made of plastic, wearing out after a couple of years of typical use. This meant the grinder would get clogged and the motor stopped working- rendering the grinder useless. Thankfully later models have been updated with enforced impellers.
The 40mm steel conical burrs allow for good grind consistency at finer settings. It has a somewhat loud 165 watt motor which rotates the burrs at a fairly slow 450 RPM. This low speed prevents heat build up which can preemptively extract the oils and aromas from your ground coffee.
The Breville Smart grinder comes with a large 18 oz hopper (although we wouldn't recommend storing your beans in the hopper as it is not airtight). A particularly helpful feature of the hopper is the simple release mechanism. Basically if you want to remove the hopper, when you unlock it the bottom seals meaning you don't have to empty the beans to remove it. This is particularly helpful if you want to change out beans or clean the grinder. If you are wanting the grind in bulk there is a plastic grinds bin included, which has an airtight lid and handy markings on the side to indicate the volume.
We have already discussed the well designed removable portafilter holders able to cater to the range of different sizes of portafilters. Breville have also added the small but thoughtful addition of a built in cord coil area to keep the power cord tidy and out of the way.
Functionality Of The Breville Smart Grinder
The Breville Smart Grinder comes with a digital interface showing grind setting, grind time and no of shots/cups which is unique for grinders at this price point. The grinder is relatively intuitive and easy to use, however some have commented that it is too smart for its own good. There is something to be said for a basic, well made grinder that will last for years. The problem with technology is that there are more parts that can break down.
However, like it or lump it the Breville grinder is a 'smart grinder' which means it has all sorts of extra features. To start with the grinder comes with a timer that allows you to adjust the grind time in increments of 0.2 seconds. Once you have found the right grind setting you are able to program your grinder to automatically grind your desired dose automatically. You can program a different setting for each of the 4 grind categories: espresso, percolator, filter and plunger. The timer is very good and stops promptly at the end of the time for a consistent dose, however the dose is based on time rather than weight which is preferable.
If you don't wish to use the dose timer there is the option of a manual grind button. This can be done by either pressing the Start/Pause button or by pushing the handle of your portafilter in to activate the portafilter switch for as long as you require.
Breville have also added dosing IQ technology where you can select the number of shots or cups you want to brew and it automatically adjusts the dose required. One of the issues some people have found with the grinder is that there is only the option of selecting the number of shots or cups you want to brew, so it is not good if you are wanting to grind in bulk.
When it comes to cleaning, Breville has thought of everything. From the simple release hopper we discussed above, to a magnetic grounds tray that is easy to remove and clean. The hopper and top burr are very simple to remove making it easy to access and clean out the burrs.
Alternatives To The Breville Smart Grinder
Baratza Encore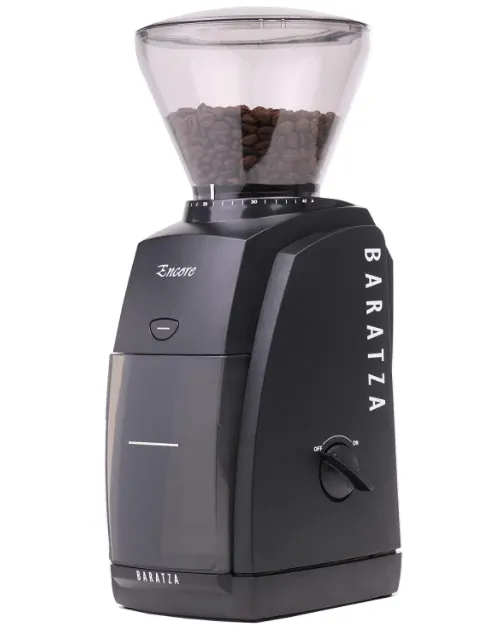 If you are looking for a grinder for manual brewing then we would recommend the Baratza Encore instead. This is a no frills grinder that comes with 40 grind settings covering fine to coarse, has superb grind consistency, and is known to be a packhorse that deals well with heavy use. This is not an espresso grinder however. See our extended review here.
Rancilio rocky
If espresso is your thing and you are really wanting to invest in a decent espresso grinder we would recommend considering the Rocky Rancilio. This is a superb burr grinder which is simple to use, made of high quality materials, and has an excellent grind range and consistency. It is also made by a coffee company that has a long track record of quality gear. See our extended review here.
Final verdict- Breville Coffee Grinder
Overall we would say that the Breville Smart Grinder Pro is a good option if you are looking for a budget espresso grinder. It is great value for money, and there really isn't anything else out there at this price point that will grind for espresso. The grind consistency at the fine to medium level is good and the range of features is admirable.