If you care about coffee then you need to care about grinders. End of story.

Let me tell you our story. We had just started to get into coffee, loved finding the best cafes. We were excited about the idea of getting seriously into coffee brewing. So we did our research and went out and bought a $500 or so espresso machine.
We started with pre-ground coffee but then read the blogs, talked to the cultured coffee lovers, and decided we needed to take the next step and grind our own beans. And so (in a remarkably oblivious way!) we went down to our local department store, saw a coffee grinder on special, and bought it.

In our minds the equation went: coffee maker + coffee grinder = superior coffee. But we had one pivotal word missing. The equation should have gone: coffee maker + quality coffee grinder = superior coffee. And so we wondered for a while why our coffee was tasting worse rather than better…

We had to learn the hard way that a bad grinder is actually far worse than no grinder. A quality grinder will grind your coffee beans uniformly and produce a balanced extraction. And that is why we have written this article on the best manual coffee grinders; to help you find a hand grinder that will actually help make your coffee taste better and your brewing experience more enjoyable.
Why Should You Buy A Manual coffee Grinder?
Coffee grinders are widely recognized as a key component to what makes or breaks well extracted coffee. In fact, a coffee grinder is the single most important piece of coffee equipment you can own. A quality manual grinder (whether conical or flat plate) is the best and necessary starting point for excellent manual coffee brewing.

So once you have made the great choice to invest in a good grinder, the next important question to answer is whether to opt for an Electric grinder or a Manual grinder? While we love electric grinders and use ours every day for espresso, we think that there are some pretty weighty reasons to consider buying a hand grinder.
Price
Perhaps the greatest advantage of manual grinders is that you get far more bang for your buck than with electric grinders. Even the cheapest manual grinders on this list will outperform the vast majority of electric grinders under $150! Similarly, a $200 hand grinder will likely be able to compete with a $500-$600 automatic grinder which is pretty amazing! Because there are so few parts to a hand grinder, almost all your money is going towards the quality and make of the burrs.
Portability
One of the great things about manual grinders is that they tend to be (with one or two significant exceptions!) far smaller and more durable than electric grinders. This makes them great for travel and in fact there is even a hand grinder so small that it will fit inside your Aeropress! Also, because there is no electronics and so few moving parts in a manual grinder, a good quality one lasts for ages. Especially in the more high-end manual grinders it is really only the burrs themselves which will wear out over time! So manual grinders allow you to take your coffee passion not simply to your kitchen at home but on that business trip, or holiday, or simply that trip to the in-laws.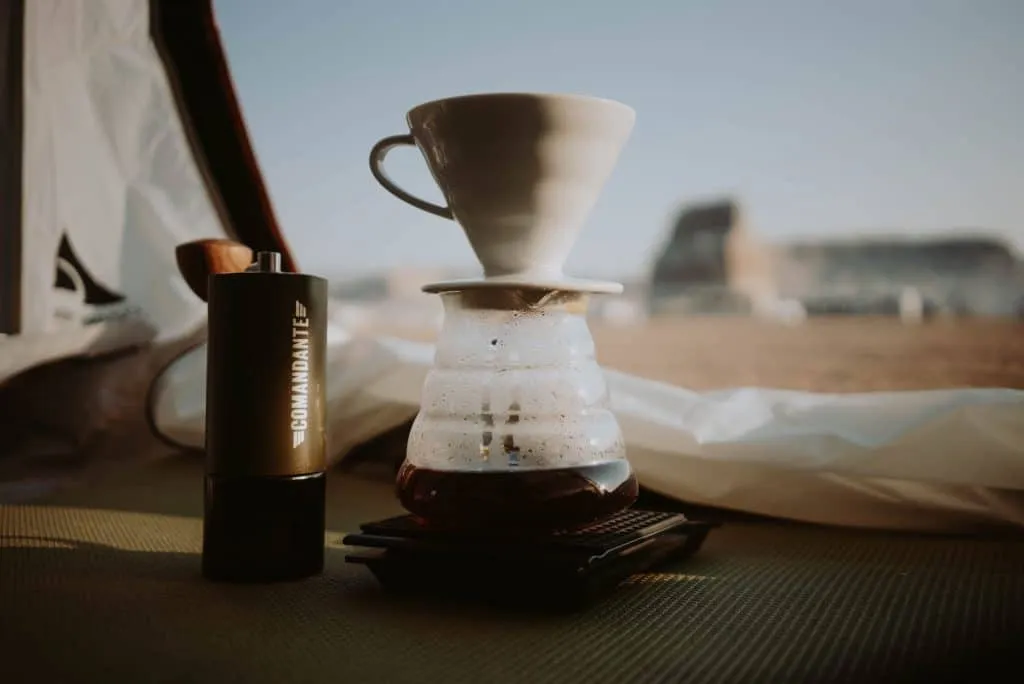 Taste
While it is contended (as just about everything in our world), many coffee lovers contend that a hand grinder is able to produce some of the best coffee in the world. Part of the reason for this is that (unless you are secretly Captain America!) there is no way that you can manually grind beans fast enough to produce heat. And when it comes to grinding coffee beans heat is one of the grand enemies that can significantly alter taste.
Process
Finally there is just this hard to define primal satisfaction in grinding your own beans by hand. If we are honest with ourselves coffee means more to most of us than simply the taste; it is a hobby, a passion, an art. It is about that deep satisfaction of extracting a delicious, balanced brew from your coffee beans. There is something intimate and personal about grinding coffee beans by the sweat of your brow (although admittedly the romantic ideal of this may fade significantly when you are five minutes into grinding that espresso!).

So overall we believe that a hand grinder is well worth your consideration both as an affordable entry into grinding your own beans, and as a high quality investment that may give your brewing that edge you are looking for.

Pros and Cons of Manual Coffee Grinders
The Best Manual Coffee Grinders
1Zpresso JX Hand Grinder
This Taiwanese based company has hit the coffee world by storm in the last few years. They have been around for a while in Asian markets and are now readily available in the West. And what everyone is raving about them is the price to quality ratio. That put simply, 1Zpresso is producing excellent quality hand grinders for very affordable prices.

The JX model is around the middle of the range in terms of the various grinders 1Zpresso produces. It is the smaller and cheaper brother of the Jx Pro. It comes with an impressive set of 48mm steel burrs, looks fantastic, and is a pleasure to use. This is an ergonomic grinder that really is a statement piece in and of itself. In terms of grind settings it has 10 numbers on the dial and an additional two clicks between each number giving you 30 clicks per full rotation. Each click moves the burr by 0.025mm. There are about 120 settings allowing you to brew anything from espresso to French press. This grind adjustment system is easy to use and similar to the Commandate below.
Another major bonus of the 1Zpresso JX grinder is that it is a very fast grinder due to the size of the burrs. This grinder is ideal for manual brewing styles, if you are wanting the ability to grind coffee beans for espresso as well, you would be better to opt for the 1Zpresso Jx Pro. Again this is a grinder that is making waves in the coffee world for good reason, that the quality to price ratio cannot be equaled.

There really is a lot to love about the 1Zpresso Jx Grinder which is why we believe that it is at present the best manual coffee grinder in 2022. For more details read our comprehensive review of the 1ZPresso JX.
Timemore C2 Hand Grinder
The Timemore C2 is, in our opinion, the best budget hand grinder. Timemore is a relatively new company in the coffee scene, but they are quickly gaining notoriety in the specialty coffee industry. And the Timemore C2 is one of the reasons why. This sleek grinder offers premium grind quality at an entry-level price.
The Timemore C2 is packed with 38mm conical steel burrs. These burrs are sharp and aggressive, making quick work of your coffee beans. And they not only offer a fast grinding speed. The burrs also produce an excellent grind consistency particularly at the medium to coarse settings. In terms of grind settings, the C2 has a stepped grind adjustment system that offers 36 different grind sizes. These grind settings offer a full grind range, catering to anything from Moka pot to French press and everything in between. So this grinder is well suited to manual brewing methods.
The Timemore C2 has a modern design, but it does have a cheaper build than some of the other grinders on this list. To keep the price down, Timemore has opted to use some plastic components in the build. So the C2 has a plastic lid and crank pommel, plastic adjustment knob and plastic stabilizers inside.However the burrs and hand crank are made of stainless steel. Overall the C2 is an excellent entry-level manual grinder that well and truly blows its competitors (the Hario Skerton and Porlex mini) out of the water. To learn more check out our Timemore C2 Review.
Hario Skerton Pro
The Skerton "Pro" is Hario's renovation of the classic Skerton with a bunch of significant improvements. The improvements include a new burr design with far more stability, a new grind setting system, and a slightly different look. And these improvements have rather remarkably taken the Skerton from what many felt was a sub-par grinder, to a quality grinder that is easy to use, produces a uniform grind, and now well thought of.

The Hario Skerton Pro is a relatively large grinder which has a hopper capacity of 100g and is made of a mix of plastic, glass, and rubber. This means that while it can be used for travel it is better suited for a kitchen setting (although a nice hack is that you can actually attach a mason jar instead of the glass grind container if you do choose to travel with it). The grind setting is adjusted by turning a small ring that clicks for every adjustment. This is the same system used with the Hario Slim Mill for those acquainted with that model. We believe this is a great hand grinder especially for manual brewing styles. It is easy to use, made of quality materials, and has been widely hailed as a significant step up on the classic model. See our in depth review here.

Handground Coffee Grinder
The Handground grinder exploded onto the grinding scene a few years back as a renovation of everything that a manual grinder ought to be. Contrary to most models on this list, the handle on the Handground Precision grinder is on the side rather than the top. Many have found this innovation to be significantly more comfortable (and comfort matters as all who have used manual coffee grinders know well!) Another great feature of this kickstarter hand coffee grinder is very clear grind size demarcations that are easy to use and easy to adjust. There are 15 settings which (in theory anyway) cover everything from espresso to french press and cold drip.

In terms of grind consistently the Handground coffee grinder is similar to the Skerton Pro and sits at the top end of the cheaper price bracket. The Handground particularly comes into its own with coarser grind settings such as are required for french press or cold drip. So if you are a French press sort of guy or gal then the Handground ought to be a very real contender for your choice. The Handground grinder is the largest manual grinder on this list and weighs almost a kilogram. So probably not great for that trip to Hawaii but an excellent choice if all your grinding will be at home.

Knock Aergrind
The Knock Aergrind is one of our favourite manual grinders. We may have a slight bias as this is the grinder we have owned and loved for the last two years. It is produced by the small scottish company Made by Knock which is well known and regarded in the coffee world for high quality burr grinders. The Aergrind sits on the lower end of the premium hand grinders and really is a superb grinder for manual brewing.
In particular, this is a hand crank coffee grinder that has made a name for itself as the grinder of choice for travel. It is small, portable, durable, and even fits inside an Aeropress (hence the name Aergrind).
It is a stepless manual grinder and so has a wide range of different grind sizes available and an easy adjustment system to use. But the reason we love love the Knock Aergrind is that grind consistency is superb, especially for Aeropress. This is an excellent manual grinder in which every components screams quality. See our comprehensive review of the Knock Aergrind.
Porlex Mini
The Porlex Mini is a very popular grinder and is now well established as the manual grinder of choice for travel. This is due to how lightweight it is and its tiny size (the handle is removable) which allows it to even fit inside an Aeropress! Another great thing about this hand coffee grinder is that being made from a mix of plastic and stainless steel it is very durable and is more than sturdy enough to bring with you on that hiking trip.

Like many of the less expensive manual grinders, the grind consistency can work well for pour over and Aeropress but will really struggle with either French Press or Espresso. It has 13 click grind settings which are easy to navigate and remember. It is worth noting that the tradeoff for the portable size of this grinder is that it can only grind 20g of beans at a time. So fine for one cup but if you are wanting to brew for your friends as well then get ready to do some serious work! For a more information check out our comprehensive review of the Porlex Mini.

JavaPresse Manual Coffee Grinder
The Javapresse manual coffee grinder has been a bit of a crowd favorite for a while now. And there is lots to love about this grinder! In many ways it is a slightly larger version of the Porlex Mini with many of the same strengths. It is very portable with a removable hand crank and has a stainless steel body that is known to last. Other advantages of this grinder include a generous 40g capacity which will easily cater to 2 cups of brew, and 18 grind settings on a click knob under the burrs. The makers of this hand crank coffee grinder also boast that it is one of the quietest grinders on the market, so no ruining the serenity at sunrise on that fishing trip!

The downside to the Javapress coffee grinder is that, like similarly priced grinders, the portability and cheaper price does lead to some compromise in terms of grind consistency.

Zassenhaus Santiago
The Zassenhaus Santiago in many ways represents the iconic antique coffee grinder. Zassenhaus is a German Company which has been around for over 150 years now and making vintage coffee grinders for almost as long! Using one of these rustic and beautiful grinders can almost feel like a step back in time. And the Zassenhaus antique coffee grinder is more than just a pretty face! These grinders have excellent grind consistency and reportedly can even grind fine enough for turkish coffee. The grind size is adjusted with a dial leading to a huge range of possible grind settings.

While it comes in three different forms of wood, we recommend going with Mahogany (if you are going rustic you may as well go the whole way!). The quality make of this vintage manual coffee grinder is reinforced by the astounding 25 year warranty that Zassenhaus offer!! In many ways this is more than just a manual grinder, it is a piece of rustic and elegant art that just happens to double as a great coffee grinder!

Lido 3
Both the Lido 3 coffee grinder and the Commandante mark a significant shift in terms of quality. These next two manual grinders easily excel the previous grinders in grind consistency and quality of burrs, and the prices reflect them. The Lido 3 grinder is a bit of a mammoth of a grinder at over 1kg weight and 13.5 inches tall (ironically it is even advertised as a grinder for travelling!). But what it loses in portability it more than makes up for in quality and functionality! This manual grinder can easily grind coffee beans for any brewing style including French press and espresso (although the espresso perfectionist may want to consider the Lido E model which is optimized for this brew style).

In terms of make it is constructed of highly durable heavy duty plastic and sports 48mm steel conical burrs. Probably the most common complaint with this grinder is that the stepless grind adjustment and lock is fiddly and not at all beginner friendly. However, the learning curve is well worth it for the grinder. This is the sort of manual coffee grinder that you won't need to upgrade from but could significantly up your coffee game! See our comprehensive review of the Lido 3 Grinder.

Comandante C40
The Comandante grinder really marks the gold standard of manual coffee grinders in terms of elegance and grind consistency. This german-made grinder is easily the best quality hand grinder on this list and excels at espresso as well as easily catering to all other brewing styles.
The burrs are made of the highest quality steel and have double axle bearings to ensure a uniformity of particle size. This makes a delicious cup of brew and has the added bonus of being one of the few high end grinders that still uses a stepped grind system for easy adjustment and replication of grind sizes. And lets be honest, it just looks pretty amazing as well! However, as with any high-end coffee grinder, you pay for the quality. The Comandante is the most expensive grinder on this list and so is an investment for the coffee lover who will accept nothing less that perfection! See our full review here.

This is a great video which reviews the premium manual coffee grinders with a particular focus on their performance for espresso…
What To Look for in a Hand Coffee Grinder
The range and diversity of coffee grinders on the market is frankly incredible and can make the choosing process rather difficult. There are literally coffee grinders of every shape and size; big and small, cheap as chips or worth more than your espresso machine, sleek and slimline or rustic with a cute wee drawer to collect the ground coffee! Here are a few factors to think through to find the best manual coffee grinder for you.
Consistency of the Coffee
It will come as no surprise that the single most important consideration in choosing a manual coffee grinder is the uniformity or consistency of the ground coffee. Inconsistent grind size will always lead to either over-extracted or under-extracted coffee, both of which taste thoroughly unpleasant. So the aim of the game is always most optimal grind consistency. While price will in some ways drive this, the aim should be to get the most consistent grinder possible in your budget.
Price
There are basically two different price brackets for manual coffee grinders which in turn reflect the consistency of the ground coffee they produce. The first bracket is $50-$100 which will get you a quality burr coffee grinder that can cater well to manual brewing styles as well as entry-level espresso machines. This is terrific for the manual (non-espresso) brewer as well as the general coffee lover. The next price bracket is $200+ and will get you a high-end burr coffee grinder which can compete with commercial grinders and is more than sufficient to grind for espresso. These are great for the advanced or committed coffee and espresso lovers who have the money to invest in quality.
Grind Settings
You will also want to consider which brewing styles you want your manual grinder to cater to. Manual coffee grinders deal most easily with the grind settings needed for pour over and Aeropress as these sit near the middle of the possible grind settings. As noted above, cheaper grinders will seldom be able to cater to the fineness and consistency of the grind required for Espresso or Turkish coffee. Similarly, many manual coffee grinders will struggle to produce an even consistency for French Press as this requires a very coarse yet uniform particle size. If you are trying to figure out grind sizes for different brewing methods see our Guide to Coffee Grinding with Grind Size Chart.
Stepped vs Stepless
It is also worth considering whether you want this grinder to be solely dedicated to one brewing style such as Aeropress or whether you will be constantly changing between styles. If you are looking for a grinder for a range of styles then you will want a stepped grinder (with a preset number of grind settings) and one that allows you to easily switch between settings. However, if you are planning to dial in your grinder for say pour over and then just leave it there a stepless (with no preset grind settings but instead often a knob or screw which you tighten to suit your required grind size) might work just as well.
Capacity of the Grinder
Another factor to take into consideration is how much coffee you will be wanting to grind at a time. Larger and less portable grinders such as the Handground and the Hario Skerton Pro tend to have a greater capacity (both can grind 60-100g of beans), while smaller and more portable grinders such as the Porlex Mini, the Javaprese Manual Coffee Grinder, and the Commandante have a smaller capacity at 20-40g. So it is worth thinking through how much coffee you will need to grind at a time.
Best Manual Coffee Grinder- The Verdict
So what is the best manual coffee grinder? Well while it depends in part on what you are looking for. If you are looking for the best all-round hand grinder you can't really go beyond the 1Zpresso JX Grinder. It is well built, has superb grind consistency, impressive grinding speed and large 48mm steel burrs!
If you are looking for the best budget manual coffee grinder the Timemore C2 is where its at. This popular grinder offers exceptional grind quality at an entry-level price.

Finally, if specialty coffee is your thing and you have the money to pay for quality then we recommend the Lido 3 as the last hand coffee grinder you will need to buy!
Keep an eye out over the next week as there are some excellent Prime Day Coffee Grinder deals available.

Happy Buying!