There has been a lot of hype surrounding the release of the Fellow Ode grinder in 2020. The idea was first launched on Kickstarter, and they met their goal of $200 000 in just 94 minutes! This is a grinder that the coffee world has been waiting for. It is aimed at manual brewing methods and packed full of features. It has professional-grade 64mm flat burrs, single-dose loading, an auto-stop function, and a stunning design! So how does the Fellow Ode stack up?
Fellow Ode
The Fellow Ode grinder is a stunning grinder that is aimed at manual brewing methods. It is packed full of features with 64mm flat burrs, single-dose loading, an auto-stop function, a tiny footprint, and quick and quiet grinding. However, some have found it has a narrow range of grind settings and can not grind fine enough for certain light roasts.
Specs
Fellow Ode Grinder Review
Design
The Fellow Ode is simply a stunning grinder with the typical Fellow aesthetics. It is impressively compact, measuring only 4.25" wide by 9.5" deep by 9.5" tall. You will have no problem fitting this on your bench. This does, however, come at the cost of a bean hopper – the Fellow Ode has been designed to be a single dose grinder and, as such, only holds 80g of beans.
Fellow has included several thoughtful features in its design. These include a magnetically aligned catch bin that easily snaps into place, fins on the bin to aid in pouring the ground coffee smoothly and a knocker to knock excess grinds from the shoot. The Fellow Ode really is a beautifully designed grinder.
They have also included a grind guide on the inside of the lid with recommended grind settings for the various brew methods. However, some experts have thought these recommendations aren't all that accurate, particularly if you are using lightly roasted coffee.
Ease of Use
The Fellow Ode is remarkably easy to use. It has an on/off switch and a large stepped dial on the front with 31 grind settings ranging from fine(ish) to coarse. Grinding is as simple as weighing out your beans, selecting your desired grind setting on the dial, and pushing the start button. One of the features we love about the Fellow Ode is that it has an auto-stop function. This is where it detects when there is no more resistance in the burrs and automatically turns the grinder off. Once you have finished grinding, you can use the knocker to knock any remaining grounds out of the shute. We should also mention that this grinder is very fast due to the large 64mm burrs. It is relatively quiet when in use, especially when compared to other grinders in the same price range. So you won't wake the whole household with your morning brew.

While the Fellow Ode is pretty simple to use, it is, unfortunately, a bit messy. Like a lot of grinders at this price point, it is prone to static, meaning you get chaff stuck in the catch bin and falling out of the shute. This hack from James Hoffman can help reduce the static, but it won't eliminate it completely. The other frustrating thing is the catch bin, which has fins that are supposed to aid in pouring the ground coffee without spilling any, also retains a lot of grinds, as they get stuck on the fins themselves. Fellow is working on a new catch bin to minimize the mess and is aiming to release it by the end of 2021.
Grinding Capability
As we stated earlier, the Fellow Ode is designed for manual brewing methods- and it does an excellent job at what it is intended to do. It is not designed for espresso and so does not grind fine enough for that. The Fellow Ode is equipped with 64mm flat burrs, so it grinds coffee both uniformly and quickly (as a reference, 64mm burrs are commonly found in entry-level commercial grinders). It has feedback controlled PID motor that ensures the grinder goes at a consistent 1400 RPM, with no fluctuations, to produce a consistent grind. This yields an excellent grind quality (especially at this price point) with not a lot of fines or boulders.

Despite the grind quality, some experts have criticized the narrow range of grind settings. With only 31 grind settings (and a large proportion of these being for more coarse grinds, which aren't commonly used unless you are brewing cold brew), the Fellow Ode struggles to grind fine enough for lighter roasted coffees. The limited number of grind settings comes down to the choice of burrs- Fellow has opted for interlocking flat burrs, which means there is a limit on how fine the burrs can grind before they touch. Some users have chosen to switch out the burrs for regular flat burrs; however, this is an extra $185, so it is hardly worth it. Fellow is working on a new set of burrs that are able to grind finer than the stock burrs. There is currently no date when these will be released yet.

When it comes to coffee retention, the Fellow Ode is pretty good. The main issue, as stated above, is static. The static causes ground coffee to get stuck in the chute and grind bin, and the grinds knocker isn't very effective in getting it out. Adding a drop of water to your whole beans can remove a lot of this, reducing the coffee retention.
Durability
The Fellow Ode is well made, and although it hasn't yet stood the test of time, Fellow has a reputation for producing high-quality products. The stainless steel burrs are of good quality and built to last. The grinder is also very easy to open up for cleaning and repairs.
Price
While some may balk at paying $299 for an entry-level grinder, we think that the Fellow Ode offers excellent value. Given the quality and design of the grinder, the features, and high-quality burrs, you would be hard-pressed to find something of comparable quality for cheaper.
What are the Alternatives?
Baratza Encore
The Baratza Encore is another grinder that is excellent for manual brew methods. For the price point, it really cannot be beaten in the market at present. It comes with 40 grind settings covering fine to coarse, has superb grind consistency, and is known to be a packhorse that deals well with heavy use. While it is a lot more affordable, it lacks the features and refinement of the Fellow Ode. See our in-depth review See our in depth review here.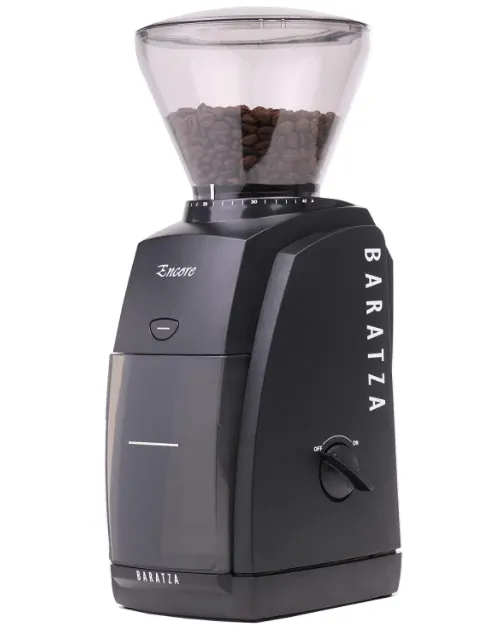 Baratza Vario
The Baratza Vario is a high-quality flat burr grinder for the home coffee enthusiast. Its strengths include its 54mm Mahlkönig burrs, single dosing, an impressive 230 grind settings, and its reputation for longevity. This is a grinder not for the beginner but instead for the coffee lover seeking a high level of grind consistency. The Vario is an all-purpose coffee grinder that is designed for grinding for both espresso and filter. See our in-depth review here.
Who is the Fellow Ode for?
There is a lot to like about the Fellow Ode. It is beautifully designed, compact, and can produce fantastic tasting coffee with unmatched clarity. It has a wide array of impressive features from professional-grade 64mm flat burrs, single-dose loading, an auto-stop function, and quick and quiet grinding. However, there is the question hanging in the background; does it grind fine enough? If you want to brew pour over with lighter roasted coffee, you may struggle.
So at this stage, we would recommend this grinder for those wanting to brew with manual methods, who love dark roasted coffee. While it does have a couple of frustrations, these will be ironed out in the next few years, and then we anticipate the Fellow Ode will be a go-to grinder, so watch this space!
The Final Verdict
The Fellow Ode was probably the most anticipated grinder of 2020, so did it live up to the hype? We would say yes (in fact, it even won an SCA best new product award)! It is a beautifully designed grinder that should definitely be a contender if you are looking for a grinder for manual brewing methods.