I wonder if you have ever had a delicious cup of coffee served in an average sort of mug. Maybe it was in a cafe, or just at a friend or family member's house. The coffee still smells and tastes amazing but there is just a vague disappointment that colours your entire experience.

And this may not just be vague feelings but scientific fact. Research has shown that the shape and even the color of your coffee mug genuinely influences the taste and experience of coffee.
And that is why we have written this article. To help you take a step towards banishing that vague disappointment at least in your own home.  In this article we want to help you find the best coffee mugs for you; mugs that you enjoy drinking from, that meet your needs, and that add a little something to your coffee experience. 
Buying Guide
When it comes to buying a new coffee mug it is easy to become overwhelmed. There seems to be coffee cups available in every size, shape and color. We have compiled a quick list of things to consider before buying to help you navigate through the endless options.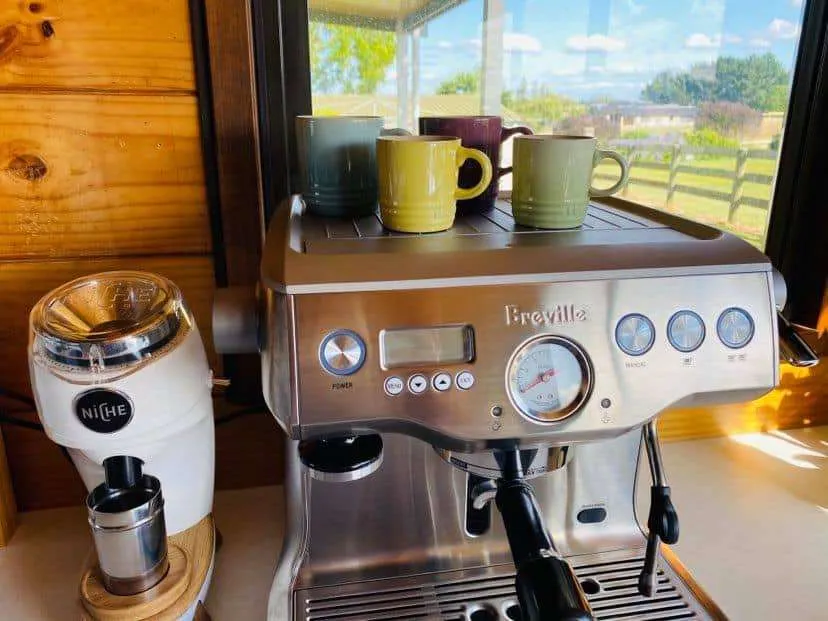 When it comes to choosing a coffee mug perhaps the most fundamental decision you will make is what material you want it to be made of. Ideally you want a material that is durable, will not absorb flavors and keeps coffee hot for as long as possible so you can enjoy all the fine notes of a brew. There are several options available…

Ceramic
Ceramic mugs are perhaps the most popular choice. They not only look good but are able to retain heat well, and leave no aftertaste when washed. The downside is that they are fragile and can stain easily. They are microwave and dishwasher safe. This material is ideal for a home coffee mug.

Glass
Glass mugs have made a come back in the last few years. They are aesthetically pleasing and create an enjoyable drinking experience. The heat retention is not all that good however there is now the option of double walled glass mugs which maintain heat well. Glass mugs are also very fragile and break easily when dropped. If you do decide to opt for a glass mug we recommend choosing a cup made of borosillate glass which is more resistant to extreme temperature changes. This material is a good option for a home or office coffee mug.

Hard Plastic
Hard plastic is often used in reusable travel cups. It has the benefits of being extremely durable and having good heat retention. However, on the downside it can develop an unpleasant smell/ aftertaste as over time plastic absorbs flavors and odors. This material is a good option for a reusable takeaway cup.

Stainless steel
Stainless steel is used in travel mugs and thermos'. This material has the benefit of being extremely durable, and holding heat very well. It is easy to clean. This material is ideal for a travel mug or someone who likes their coffee hot. If you are looking to buy a thermos check out our guide here.

The next thing to consider is durability. If you are investing in a new mug you need to consider how/ where you will be using it. Will it just be for use at home or are you wanting to travel with it on that morning commute? You want a mug that can handle the odd knock or drop without breaking.

How much coffee do you like to drink? Are you looking for a large mug to sip from all day or a small cup for that morning espresso shot?

How easy is it going to be to clean your mug? Is it dishwasher safe or are you going to have to hand wash it? Is it made of material that is easy to clean?
The Best Coffee Cups 2021
---
These mugs are high quality, long lasting mugs. They are made of thick stoneware that is resistant to chips and coated with an enamel exterior that protects against marks and damage. They have a comfortable handle to hold, are a good weight, and are able to keep your drink warm long enough to drink it. Available in a wide range of sizes and bold colors they will add a touch of character and color to any kitchen.

The Contigo Autoseal Mug is perfect for the commuter who is looking for a travel mug that won't break the bank. This mug keeps drinks hot for up to 5 hours and cold for up to 12 hours. The Contigo is fitted with an autoseal lid, that automatically seals between sips to eliminate spills and leaks. This sleek mug is designed to fit in most car cup holders and to be used one handed. This makes it perfect to drink that morning brew from as you navigate your way through traffic. The lid also has a lock button to prevent accidental spills. Made of double walled vacuum-insulated stainless steel it is available in 20 different colors and 2 different sizes so you are sure to find one to fit you.

The Ember temperature control mug is the ideal solution for the distracted drinker. No longer do you have to deal with the disappointment of coming back to a cold coffee. This mug utilizes the latest technology to keep your coffee at your ideal drinking temperature. The mug can pair with an app on your smartphone notifying you when it is at your chosen drinking temperature and also allowing you to control the temperature whenever or wherever you are. The mug is made of stainless steel with a ceramic coating and is safe to hand wash. The battery allows you to keep your drink perfectly hot for 1.5 hours or all day if you are using the charging coaster. This slightly ridiculous mug is for the seriously committed coffee drinker.

The Espro travel mug is perfect for the coffee traveler. The Espro features a double micro filter which helps cut down the silt in your coffee. The cup is designed with a French Press style filter which can be converted with a paper filter into a Pour Over style filter. The use of the paper filter withholds some of the oils in the coffee producing a cleaner cup with brighter, cleaner flavors that is similar to drip coffee. The filter is also designed to stop extraction once pushed down so your coffee doesn't get bitter over time (although we wouldn't recommend leaving it for too long). The mug itself is made of double walled stainless steel that keeps your brew warm for up to 6 hours. It is available in multiple sizes and a variety of colors.

The Sweese Mugs are a great investment for someone looking to replace a set of mugs. Available in a wide range of vibrant colors they will brighten any kitchen. They are made of durable porcelain with a wide comfortable handle making them easy to hold and drink from. The cups are dishwasher and microwave safe. They also come in a wide range of styles and sizes to meet all your drinking needs.

The Fellow Monty mugs are ideal for the espresso lover. These mugs are designed to help you create great latte art by lifting your crema to the top without disruption. They come in 2 sleek colors and 4 different sizes. Made of double wall ceramic it helps keep your coffee hot for longer. These are seriously good looking coffee cups perfect for perfecting your latte art in!

These mugs are great for those who love to see their coffee. Made of double walled borosilicate glass they help keep your drink piping hot while not letting the mug be too hot to hold. They are available in multiple sizes and styles. The double walled glass eliminates need for coasters as no condensation will occur. These mugs are also dishwasher safe making them easy to clean.

What Are The Best Coffee Mugs?
In conclusion we believe any of the mugs on this list will be a great investment. If you are looking for a great general coffee mug the Le Creuset is a great pick. Alternatively if you are a coffee snob who loves brewing the perfect cup the Ember coffee mug is a great way to ensure you enjoy every mouthful at the perfect temperature. Finally If you are into crafting and want to find an SVG to elevate your favorite mug check out our review of the best free coffee SVGs.

Happy Buying!