The Rocket Appartamento is a beautiful E61 espresso machine with classic Italian styling and a premium build. As the name would suggest, the machine is designed with a small footprint to fit into an apartment lifestyle. If you are considering upgrading to a prosumer espresso machine, the Rocket Appartamento should at least be on your list.
About Rocket Espresso
Rocket Espresso is a well-reputed brand known for producing premium home and commercial espresso machines. Their espresso machines feature traditional Italian styling, excellent built quality, and beautiful aesthetics. The Rocket Appartamento was released several years ago as their entry-level model- but don't let the name fool you; it is still a classy machine that has proven to be very popular.
Rocket Appartamento Review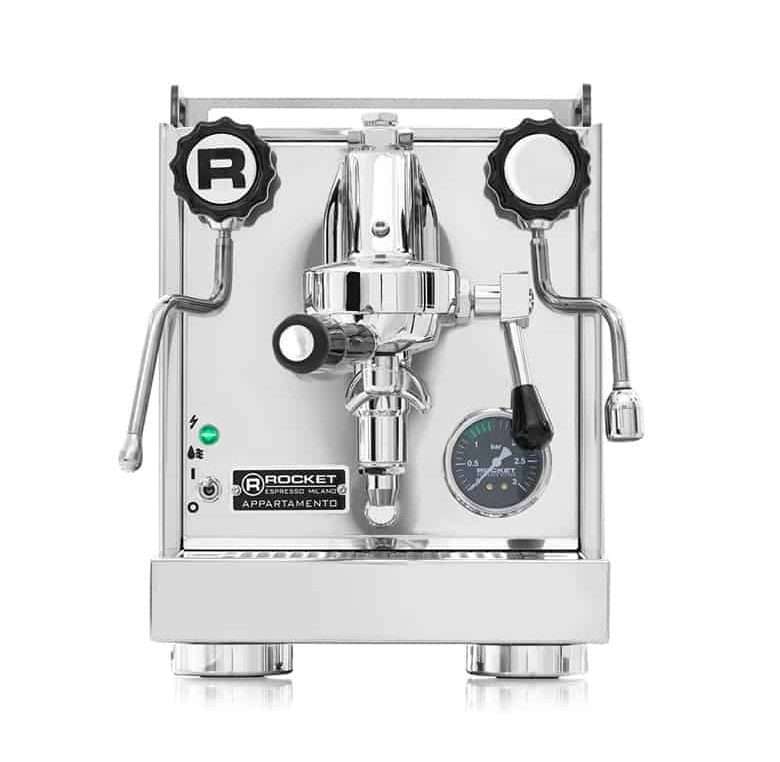 Specs: Dimensions: 10.5" W x 17" D x 14.25" H | Weight: 24 kg | 1.8L copper boiler | Power 1200w | 2.25L Water Reservoir
Design
The Rocket Appartamento is a stunning machine with an almost industrial feel. It has the classic E61 style, modernized with laser cutouts on the sides of the machine. You can choose between a white or copper side panel color or the newly released black powder coat on the Rocket Appartamento Nera. It has a relatively compact footprint, which is part of its appeal- aimed at those with limited bench space.
The Rocket Appartamento has the impeccable build quality common to Rocket espresso machines. A stainless steel casing, copper boiler, vibratory pump, heavy-duty commercial portafilter- this baby is built to last. The only gripe some users have had is with the cup warming tray, which has plastic rails. But not a biggie, and you can upgrade to a metal rail if you so desire! So let's take a look inside.
Heat Exchange Machine: The first thing to note about the Rocket Appartamento is that it is a heat exchange machine, so it will allow you to brew and steam simultaneously. Heat Exchange machines are solid machines but sometimes struggle with temperature stability, requiring cooling flushes before brewing.
E61 Group Head: An E61 group head is a classic design that has been around for almost 50 years. With an E61, hot water from the boiler is constantly cycled through the group head. While it takes a long time to heat up and cool down, an E61 has excellent temperature stability and is known for its durability.
Copper Boiler: The Rocket Appartamento is fitted with a 1.8L copper boiler. Copper boilers are good at retaining heat and are long-lasting. The boiler is not insulated (unlike some of Rocket's other models), making it less energy-efficient and slightly louder.
Vibratory Pump: The Rocket Appartamento has a vibratory pump, which is common in espresso machines. A vibratory pump means the espresso machine can only use a water reservoir- it doesn't have the option to be plumbed in. Vibratory pumps are also slightly louder than their rotary counterparts.
Pressure Stat: The Rocket Appartamento does not have PID temperature control, which is a deal-breaker for some. A pressure stat is undoubtedly inferior to a PID, allowing less control over boiler temperature. However, it is still possible to change the boiler temperature manually (see this helpful guide by Clive Coffee if you want to do this). There is some debate over whether PID control is necessary for a heat exchange machine. If you aren't intending on adjusting temperatures, then the pressure stat will be more than sufficient- so long as you give the machine plenty of time to heat up to offset the lack of temperature control.
Pressure Gauge: The Rocket Appartamento has one pressure gauge, showing the pressure of the steam boiler, not brewing pressure. This helps see when the machine is ready for use- around 1 bar.
Overall the Rocket Appartamento has a premium fit and finish. The machine is built from high-quality components and looks stunning.
Ease of Use
Moving from a consumer to a prosumer espresso machine will require a learning curve for anyone. However, the Rocket Appartamento is a straightforward machine to master. There are no features, and espresso is brewed by manually lifting or lowering the lever. The main thing you need to get used to with the Rocket Appartamento is the cooling flushes. The machine requires at least 20 minutes to warm up before you go to use it. When it is ready to use, it is recommended you flush out the overheated water before brewing.
Espresso Quality
The quality of espresso produced from the Rocket Appartamento is impressive. The E61 group head maintains a stable temperature and produces repeatable, well-extracted shots. The Rocket Appartamento has a built-in pre-infusion resulting in complex and flavorful espresso.
As mentioned above, it is essential to purge the group head before brewing, especially if it has been sitting idle for a while, to remove any overheated water. Then to brew a shot, you lift the lever to start it and lower it when you want to end your shot. We recommend using a coffee scale to weigh or time your shot. As a side note, the Appartamento has a low cup clearance, so it is designed to brew into a shot glass or small cup.
Steaming
The Rocket Appartamento has excellent steam power and is a step up from your entry-level machine. It easily and quickly produces microfoam, perfect for latte art. It is fitted with a no-burn steam wand, so the wand doesn't get too hot when in use, and then it makes it easier to clean after as the milk doesn't stick to the wand.
Cleaning and Maintenance
The Rocket Appartamento comes equipped with some essential cleaning products; a blind basket, some cleaning tablets, and a microfibre cloth to keep that stainless steel case gleaming. Your daily cleaning involves wiping and purging the steam wand and backflushing the group head.
Unfortunately, the Appartamento has a small water reservoir and drip tray, which is the tradeoff for the compact size. So managing the water can be a bit of a hassle. With the cooling flushes required with the heat exchange, you have to be vigilant about emptying the drip tray and refilling the water reservoir.
In terms of long-term maintenance, Rocket does not advise you to descale the machine yourself- so we won't complain about that! To keep mineral build-up to a minimum, ensure you use filtered water.
Other Alternatives
Breville Dual Boiler
The Breville Dual Boiler does not have the same flair as the Rocket Appartamento. However, it is a fan favorite in the coffee world. The Breville Dual Boiler is packed full of features allowing you to customize almost every brewing parameter. It has PID temperature control, a shot clock and allows for modding. See our full review here.
Who Is The Rocket Appartamento For?
The Rocket Appartamento is an excellent option for the person who wants to transition into the world of prosumer machines, particularly if you have limited bench space. The Rocket Appartamento offers the ability to pull shots simultaneously to steaming milk. It looks beautiful, is exceptionally well built, and produces a decent espresso.
Rocket Appartamento- The Verdict
The Rocket Appartamento is a stunning machine that is built like a tank. And don't let the small size fool you; this little beauty packs a punch! Being a heat exchange machine, it can brew and steam simultaneously. The E61 group head has excellent temperature stability producing consistently good espresso. All in all a perfect option if you are looking to step into a prosumer machine.
Happy Buying