If you are a coffee lover and want a convenient and easy way to enjoy your morning brew, the Nespresso range is for you. Nespresso is all about the combination of consistency, ease, and delicious tasting coffee. 
The Nespresso Vertuo Plus, despite being a relative newcomer to the scene, has quickly gained a following due to its ability to brew both espresso and drip style coffee.
Nespresso Vertuo Plus
The Nespresso Vertuo Plus is a great all rounder machine, capable of brewing both espresso and drip style coffee. The machine uses new centrifusion technology to brew five different drink size options. It also has unique barcode scanning technology, to automatically adjust the brewing parameters such as temperature, pressure and brewing time, according to the capsule you insert. This versatile machine is great for the coffee enthusiast wanting a quick and easy way to enjoy their morning brew.
Specs:
Category: Vertuo | Milk Frother: Separate | Water Tank: 40 oz | Capsule container capacity: 10 Mug capsules (large) | Dimensions: 8.7 x 12.7 x 12.8 inches | Warranty: 1 year
Nespresso Vertuo Plus Review
---
Nespresso Overview
Nespresso machines are a pod based system that produce single serve coffee drinks. Nespresso has partnered with well known brands like Breville and De'Longhi to produce their machines. The Nespresso Vertuo Plus is one of the latest in their line and produces longer, luxurious drinks topped with a thick layer of crema.
Prior to the Vertuo range, the OriginalLine machines were only capable of producing smaller, espresso shots. The Vertuo system uses centrifusion technology, where the pod is spun at high speeds of 7000 rpm to brew coffee. The Vertuo range also uses special pods with a barcode system which the machine reads to tailor its brewing to the capsule.
Design
Like most Nespresso machines, the Nespresso Vertuo Plus has an understated elegance to it's design. It is available in a range of colors, both neutral and bright, to suit any palate. Both De'Longhi and Breville produce the Vertuo Plus- the two machines are virtually identical aside from a slight difference in the design of the front. Breville opted for a more dome shaped top whereas De'Longhi went with a square shape.
While the Vertuo machines are in general more bulkier than the OriginalLine machines, the Nespresso Vertuo Plus has a relatively compact footprint. It has a clever design with a moveable water tank allowing you to optimize counter space. The Vertuo Plus also features an automatic head and capsule ejection so you can easily insert and eject your capsules. So design is a tick!
Ease of Use
The Nespresso Vertuo Plus is super easy to use. The whole brewing process has been automated, so the machine reads the barcode on the capsule you insert and adjusts the brewing parameters such as water volume, temperature and brew time accordingly. To use the machine you simply insert your capsule and then push a button to brew your coffee. The Vertuo Plus also has a large water tank and used capsule container so you won't have to constantly be refilling and emptying them. The machine has a very quick heat up, being ready to use within 30 seconds of turning the machine on. Overall this is a very user friendly machine great for those bleary eyed mornings.
Cleaning and Maintenance
Like all Nespresso machines, the Vertuo Plus is very simple to clean and maintain. In terms of cleaning you simply have to wash out the drip tray and used capsule container every few days. Note that these must be done by hand as they are not dishwasher safe. The machine also has an automatic cleaning cycle you can run (you simply push the top button three times) and this runs clean water through the machine. Like all coffee machines it is recommended you descale the Nespresso Vertuo Plus every 3 months.
Taste
This is perhaps the most crucial feature of the Nespresso Vertuo Plus. How does the coffee actually taste? If you are a coffee snob you will likely not be a fan, as Nespresso can not compare to freshly ground and brewed coffee. However, for those already sold on Nespresso, the Vertuo Plus is an excellent option. The capsules produce a pretty good tasting coffee topped with a thick layer of crema. The Vertuo Plus produces five different sizes of coffee: Alto (414ml/14oz), Mug (230ml/8oz), Gran Lungo (150ml/8oz), Double Espresso (80ml/ 2.7oz) and Espresso (40ml/1.35oz).
Nespresso offers a range of different capsules for each cup size including different flavors, intensities and even decaf options. However if you are shifting over from an OriginalLine machine you will notice that there are substantially less coffee options as there are no third party branded capsules available. The coffee tastes pretty good for pod coffee. Nespresso uses aluminium capsules that are hermetically sealed to preserve the freshness of the coffee. Overall the Vertuo Plus produces a delicious coffee that is redefining instant coffee.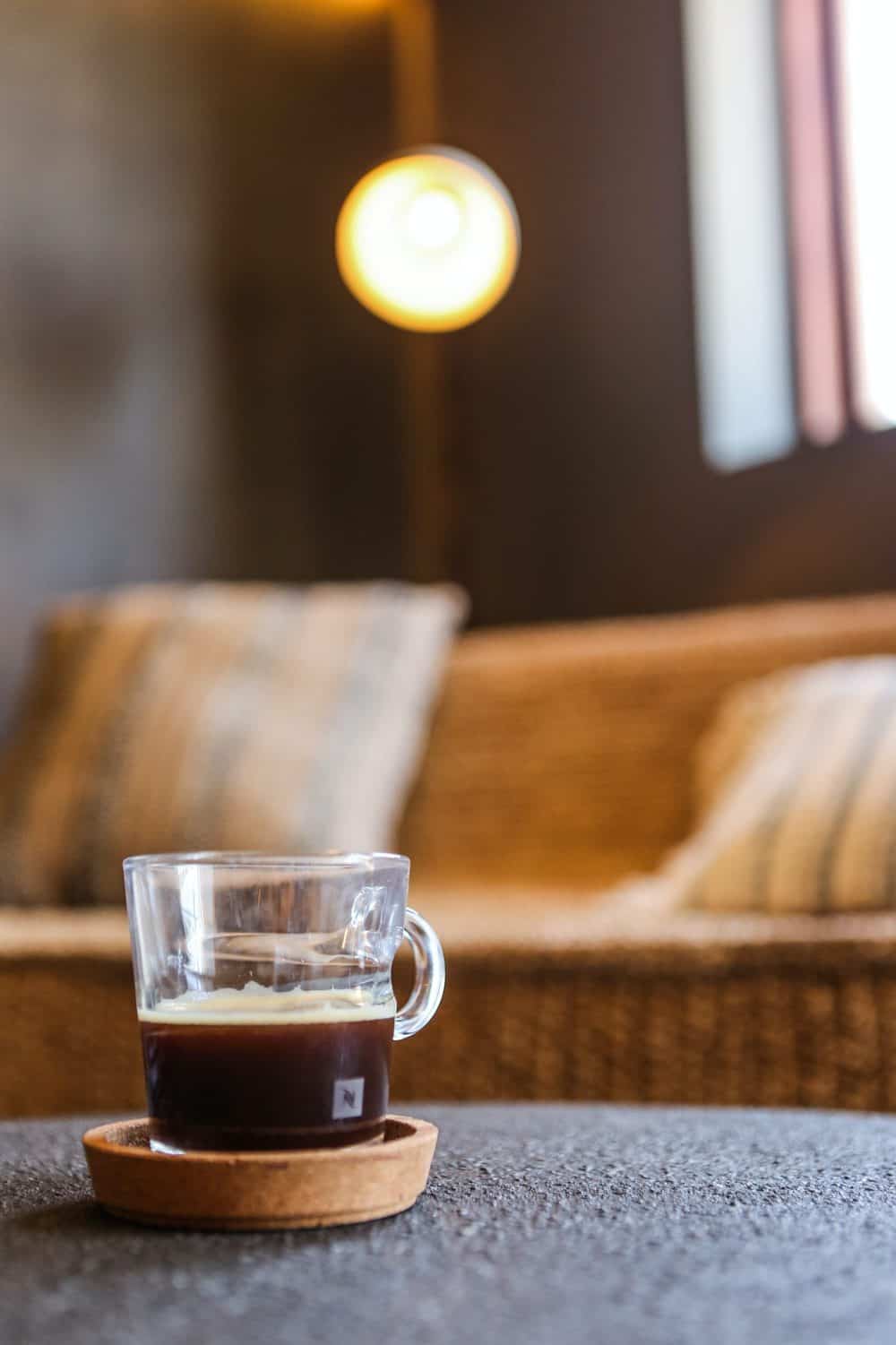 Can You Recycle Nespresso Capsules?
Nespresso recycles it's capsules to help reduce the amount of waste produced by single serve machines. They offer a recycling program, where you can order a recycling bag online and then either return them to a store or if you are in the US you can throw your pods into a pre-paid UPS bag and drop them off at any UPS pick-up location, local Office Depot or Staples.
Milk Frother?
Unfortunately the Nespresso Vertuo Plus does not come with a built-in milk frother. You are able to buy the machine bundled together with an Aeroccino which is a good option for those latte lovers.
Value for Money
Overall the Nespresso Vertuo Plus offers pretty good value for money. It is a very versatile machine that is well built but has a modest price point. Given that the machine is only compatible with Nespresso capsules you will find the price of buying capsules is higher than with other machines.
If you are wanting to add in a milk frother, this will increase the price slightly and it might be worth looking into other options such as the Nespresso CitiZ or Lattissima One which have built-in frothers. Alternatively if you want an even more affordable alternative you could consider the Nespresso Vertuo. This is the younger brother of the Vertuo Plus and shares many of the same features with the key differences being that the machine head of the coffee machine doesn't have the automatic opening and closing mechanism, and you cannot move the water tank around.
Who Should Buy The Nespresso Vertuo Plus?
The Nespresso Vertuo Plus is an excellent coffee maker for the coffee lover that is not looking to develop their skills, but wants a quick and easy cup of coffee with the push of a button. The Vertuo Plus is versatile, allowing you to brew both espresso and drip style coffee. There are also a range of different flavors and types of coffee available. This would also make a good coffee machine for the office, being simple to use and clean.
Reasons to Buy
Reasons to avoid
The Final Verdict
If you are on the lookout for a coffee machine for the home or workplace, the Nespresso Vertuo Plus is a good option. This machine is easy and convenient to use, reliable and makes a great cup of coffee with minimal effort. The downside to the machine is that the capsules have a high price and do produce a substantial amount of waste.
If you are still not sure whether the Nespresso Vertuo Plus is the right machine for you, be sure to consult our list of the Best Nespresso Machines for some alternatives.