Unfortunately drip coffee makers and the specialty coffee movement are seldom used in the same sentence. While drip coffee machines are especially popular in North America they tend to attract a crowd that loves coffee enough to move away from instant but not enough to move towards the more third wave brewing methods such as Aeropress or Pour Over.
And that is part of the reason the Breville Precision Brewer is so interesting. This coffee machine is really a drip coffee maker that is designed for lovers of specialty or craft coffee. It fits into a similar niche as the Technivorm Moccamaster and is capable of producing a range of coffees from standard drip to pour over and cold brew.
Breville Precision Brewer
If you love specialty coffee and often entertain guests or have other gatherings then the Precision Brewer is a great option. This coffee maker comes from a company with a track record for excellence, can make delicious coffee, and is equally capable of making up to 12 cups or down to a single cup of coffee at a time.
Who Is The Breville Precision Brewer For?
The Breville Precision Brewer is really designed for the niche of people who are looking for a drip coffee maker but don't want to sacrifice quality for quantity. As a drip coffee maker it has the normal strengths of convenience, consistency, and the ability to brew large batches of coffee easily. But in addition this machine has the ability to brew pour over, cold brew, over ice, and to really customize almost every parameter of the brewing process.
As such this machine and the price tag that comes with it are really aimed at coffee enthusiasts. If you are simply looking for a drip coffee maker to get the job done then this is probably not for you. For a cheaper but still reliable drip coffee maker we recommend the Bonavita BV1900TS.
However if you do love specialty coffee and you love playing around with brewing parameters like water temperature, bloom time, and flow rate, then this is a great option. Probably the greatest strength of this coffee maker is its ability to let you control every aspect of how your coffee is brewed.
Specifications
Breville Precision Brewer Review
---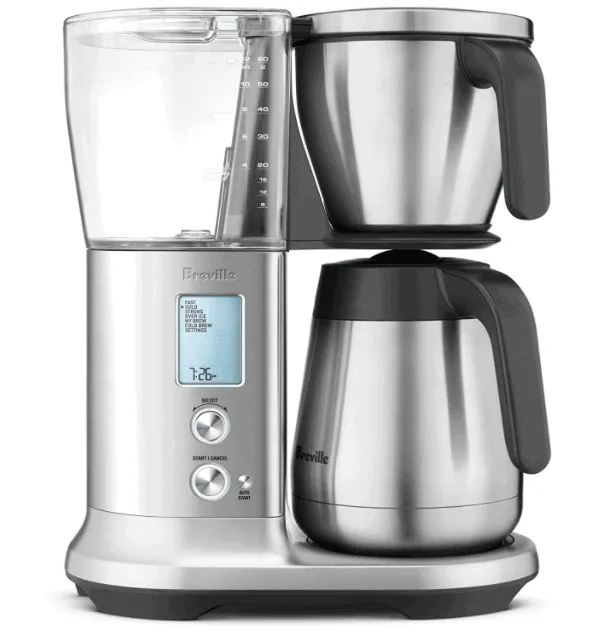 What's To Love About The Breville Precision Brewer?
Customization and Features
Perhaps the biggest strength of the Breville Precision Brewer is its flexibility and adaptability as a coffee brewer. As mentioned above, if you are looking for a simple coffee machine to get the job done then this is probably not for you. Instead this coffee maker is all about the ability to customize and fine tune the brewing process to best extract the flavor of the beans you are using.
There are six different brewing options that you are able to select from the LCD interface; Fast Brew for when you are in a rush, Gold Standard which sets all the brewing parameters to the SCA's recommendations, Strong Brew for when you really need a caffeine hit, Over Ice which again makes a stronger coffee to compensate for the ice, Cold Brew, and My Brew which allows you to set your own parameters for how you like your coffee brewed. Together these settings give you an impressive amount of options for how you like your coffee. Our recommendation is that the Gold Standard is a great place to start especially if you are a little fuzzy on how parameters such as the bloom time and water temperature affect the brewing process. 
The name Breville Precision Brewer refers specifically to the precise control over water temperature that this machine provides. Unlike most drip coffee makers, this machine comes with a PID (Proportional-Integral-Derivative) digital temperature control. This is an incredibly accurate system for controlling water temperature which features in most of Breville's espresso machines. When reviewing other popular drip coffee makers, Breville felt that the biggest thing that was lacking was precise control over water temperature and hence the PID. The water temperature can be adjusted between 197 and 204F. This is one of the features that allowed the Precision Brewer to meet the Specialty Coffee Association's shortlist for certified Home Brewers.
As mentioned above this brewer is particularly designed for coffee enthusiasts who enjoy playing around with the brewing process. As such this coffee maker allows the user to alter the flow rate between fast, medium, and slow, the 'bloom' time and water volume, and the water temperature. This makes it a great machine to play around with if you love experimenting with different beans and getting optimal extraction.
In terms of brew capacity the Breville Precision Brewer can brew anywhere from one to an impressive 12 cups. There are three different options depending on the size of your brew; for smaller brews up to 1.2L there is a conical cone, then for larger brews there is a bigger flat bottomed cone, and finally there is a metal filter basket that doesn't require a paper filter. One of the best things about this brewer is that users have found that the quality of the coffee is consistent between larger and smaller batches which is surprisingly rare among drip coffee makers. It also comes with a set and forget function in which you can set the machine to turn on and start brewing your coffee so that it is ready for you in the morning.   
Another innovative feature of the Breville Precision Brewer is that it can be used with your V60 or Kalita Wave. You simply connect the special adapter, place your pour over and filter in the machine, and then brew. This is a feature which is almost completely unique to the Precision Brewer and will appeal to some. It is worth noting however that this does require the purchase of additional adaptor that doesn't come with the machine 
Ease of Use
As with most Breville appliances, the Breville Precision Brewer is very easy and straightforward to navigate. It comes with an LCD interface through which you choose your brew settings and alter your brewing parameters if desired. Using it is as simple as placing in your paper filter if you are using one, adding your coffee grinds, filling the water reservoir, and then starting the brew. The brew time differs depending on which brew setting you are using and can be anywhere from under 7 minutes with the fast mode to 12-14 hours with the cold brew mode. 
What's Not To Love About The Breville Precision Brewer?
Price
Really the only negative about this coffee machine is that it does come with a fairly hefty price tag. It simply is well and truly on the upper end of what you might pay for a Drip Coffee Maker. It is a similar price to the Technivorm Moccamaster which is well recognized for its reliability and quality. As such we recommend that you only buy this if you are intending to make the most of its wide range of features. If you love playing around with coffee and brewing parameters and are looking for a flexible coffee maker then this is a great option.
Breville Precision Brewer- Yay Or Nay?
Well we hope this article has been informative and helpful for you. The Breville Precision Brewer is a fantastic coffee maker for the coffee enthusiast or amateur barista who loves not only getting the job done but really fine tuning the brewing process. It comes with an impressive amount of both features and customization that will probably be the deciding factor for whether or not this machine is right for you. 
Happy Buying!