You have just unboxed your shiny, new Keurig coffee maker and now all you need are some good K-cups. But a quick look at Amazon has shown that there are literally hundreds of both flavors and brands. What are the best K-cups? Where do you start? Which are the good ones? Which are the bad ones? Will they all fit into my specific Keurig model?
We have written this guide to help you navigate the wide and sometimes overwhelming world of K-cup coffee pods.
What Are Keurig Coffee Machines?
Keurig has become a household name especially in the North American coffee scene. The Keurig coffee maker was the first single serve coffee maker invented, with the idea being that you could have fresh, hot coffee at the push of a button any time you wanted. And the idea has really taken off! In 2019 over 40% of households in the US owned single serve coffee makers.
The main benefit of Keurig machines is that they are convenient, easy to use, and require minimal clean up. If you are interested in buying a Keurig coffee maker check out our review here.
What Are K-cups?
A K-cup is basically a plastic cup that contains a paper filter filled with ground coffee and is sealed for freshness. When the K-cup is inserted into the machine the top and bottom are pierced and water is pumped through the K-cup to brew the coffee. They are available in every sort of roast, flavour and brand imaginable.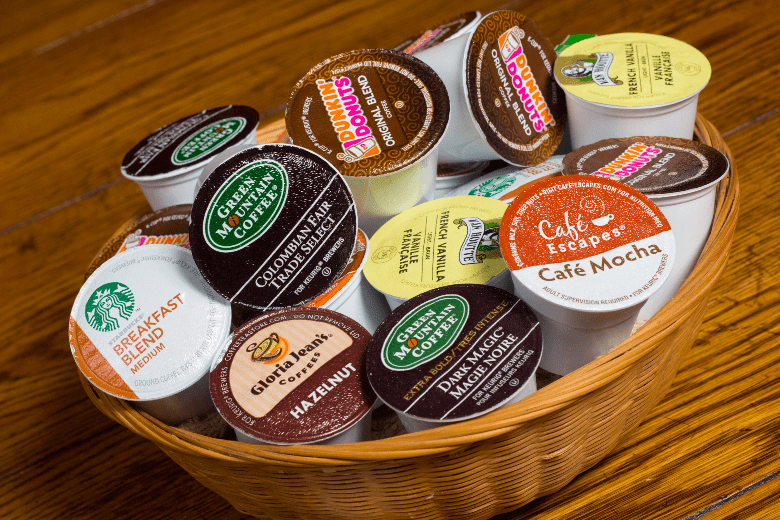 K-cups are very convenient to use and can be disposed of once used. However, they do create a lot of waste especially if the cups are not made of biodegradable materials.
A more environmentally friendly option is the reuseable K-cup. This is basically a reusable filter that can be filled with your choice of ground coffee and flavourings. While this may not be as convenient to use it does result in a lot less waste and often works out to be a lot cheaper per cup of coffee.
What To Consider When Choosing K-cups?
Type of Roast
K-cups are available in different Roast profiles:
Flavor
Are you just wanting a plain cup of coffee or do you want something a little more fancy? K-cups are available in all sorts of different flavours! Here are some interesting flavours to try:
Price
K-cups are not the most economical option when it comes to coffee. According to one Time magazine article K-cups cost you 250% more than what you'd spend on a regular cup of coffee. Approximately 66c per cup compared to 28c per regular cup or traditional brewed coffee. That's the price of convenience! K-cups come in a range of different prices, if you are looking for something more affordable. It is also better to buy in bulk, once you figure out what K-cups you prefer, to save money.
Packaging Issues
Some brands of K-cups have issues with poor packaging, resulting in the K-cup exploding or leaking coffee everywhere. Not only is this a waste of money but it also creates a big mess to clean up. When choosing what K-cups to go with, read the reviews on Amazon to see if it is a common occurrence before choosing what K-cup to go for.
The Best K-cups 2022
The Green Mountain Breakfast Blend is a popular choice on Amazon with thousands of positive reviews. This blend is a light roast, with clean, bright notes and a mild flavor- perfect for those who don't want a strong coffee. It is made with 100% Arabica beans. Green Mountain also ensures its beans are sustainably sourced. What does this mean? They are committed to paying their workers fair wages and improving the working environment by improving water quality and planting trees.
Who doesn't love a fresh cinnamon roll with their coffee? Now you can have them both in one with Cinnabon Cinnamon Roll K-cups! These K-cups have a smooth, light flavor with a prominent cinnamon flavor. This is a great option for those who like flavored coffee.
Dunkin' Donuts Original Blend K-cup is a classic K-cup to try. It is a medium roasted coffee with a rich, smooth taste. The Dunkin' Donuts K-cup is your basic coffee, with no fancy flavors, for those just looking for a good old cup of joe.
The Caribou blend K-cup is a well balanced medium roasted coffee, with sweet, spicy and berry notes. It is made from Indonesian coffee beans. This is a mellow blend of coffee with unique flavor profiles making it a must try!
The Original Donut Shop Regular K-cup is another great option if you are after a medium roast. It has a strong, full bodied flavor with low acidity and bitterness.
Peet's Major Dickason's Blend is a dark roasted blend. With rich, bold flavors it's easy to see why this K-cup is so popular. Peet's coffee uses fresh, high quality beans in their K-cups. However, this does come with a higher price tag.
Starbucks Pike Place is a medium roasted coffee. It has a well balanced flavor with subtle notes of cocoa. And is smooth and rich. Starbucks has also changed its packaging to make all their K-cups recyclable.
Starbucks Dark French Roast K-cup is a dark roast (the darkest roast Starbucks makes) with smoky flavors. It is a lighter bodied coffee with low acidity.
Eight O'Clock Original Decaf is a medium roasted coffee. It has a well balanced, sweet flavor with hints of fruit. This is a great option for those looking for a decaf coffee.
Common Questions about K-cups
Can K-cups be used twice?
No, K-cups are designed to be used once for a single serve, then thrown away. The coffee in a K-cup is only enough for one brew. If you reuse the same K-cup for a second brew you will find the coffee that comes out is weak and over extracted, tasting horrible.
How much coffee is in K-cups?
9-12 grams of coffee.
Can K-cups be recycled?
Because K-cups are made up of a mixture of plastic and aluminium then need to be taken apart to be recycled. However some companies have brought out recyclable K-cups.
Do K-cups expire?
Most K-cups will have a best-before date on the side. While they do not go bad for a long time, you will find that the flavour and freshness decreases over time.
All the K-cups above are great options to try out. If you are new to the world of Keurig we recommend buying some variety packs (such as Starbucks). This allows you to try out a range of different flavors and roasts to see which ones you prefer. And once you know what you like you can then buy in bulk to save money.
Happy Buying!