Becoming a home coffee roaster is a great option if you have mastered your brewing skills and you are ready for the next step. Investing in a home coffee roaster allows a greater level of regulation over your brew, you are literally in control every step from bean to brew! And not only can this hobby increase your love and knowledge of coffee, but it is able to save you hundreds of dollars a year!
In this article, we will first give you the rundown on why and how to roast coffee beans at home, before reviewing five of the best home coffee roasters and giving our recommendation. If you are pushed for time feel free to jump down to the actual reviews.
Our pick: Kaldi Home Coffee Roaster
Why Roast Coffee at Home?
Roasting coffee beans at home can be the next step in the journey to brew the perfect cup. The advantages are basically control and cost. Investing in a home coffee roaster allows you to create your own blends of coffee to perfectly suit your palate. And perhaps even more significantly, green beans are at least half the price of roasted beans. So if you are an avid coffee fan you can save hundreds of dollars a year while perfecting the art of the brew! And let's be honest, the idea of roasting your own coffee beans and filling your house with the rich aroma of coffee isn't a bad incentive either! Roasting at home can be done either through a roasting machine or even with appliances you probably already have in your kitchen! See our article here for a detailed guide of how to roast coffee at home.
Stages of Roasting Coffee
Stage 1- Drying
A coffee bean is made up of about 8-12% water content. In this first stage it may look like nothing is happening but the bean is warming up and the water starts to evaporate.
Stage 2- Browning
Once the beans have dried out they begin to brown (this usually happens around 150C/ 302F). The coffee bean begins to expand and it sheds its thin skin (the chaff). At the end of this stage you begin to hear the first crack. This occurs when the pressure inside the bean (from the build up of gases) is released. It sounds similar to popcorn popping. Light roasted coffee is usually stopped at or just after the first crack. These beans are a dark tan color and typically have a bright acidity, hints of fruit, a light body and lack of bitterness. Origin flavors are more pronounced in a light roast, so if you are using single origin beans this is a great roast level to aim for.
Stage 3- Development
This is where the art of roasting comes in as the roaster determines how long to subject the coffee bean to heat. During this stage the complex flavors start to develop; the acidity and sweetness of the bean decreases as the sugars and acids inside are caramelized. This will result in a medium roasted coffee. These beans are a light brown color and typically have a more balanced, sweeter taste with a hint of bitterness. They still have their unique flavors resulting from the origin but these are toned down and smoothed out.
At the end of this development stage you hear the second crack as the structure of the bean begins to break down and its oils are released. They become darker and oils appear on the surface. This will result in a dark roasted coffee. These beans are a dark brown color with an oily sheen and typically have a low acidity and high level of bitterness. The flavor characteristics of their origin are far less pronounced at this stage.
What to Look for in a Home Coffee Roaster?
Type
There are basically 2 types of home coffee roasters you can buy:
Capacity
Think about how much coffee you need and how often you want to be roasting a batch. Generally air roasters are only able to roast small batches whereas drum roasters have larger chambers to cater to a bigger batch.
Control
How involved do you want to be in the roasting process. Do you want to just flip the switch and leave it running? Or are you more inclined to tweak different variables for a more unique roast? In general the higher end machines have more programmability and allow you create and save roast profiles for increased consistency.
Cooling
This stage is almost as important as heating. You need the beans to cool down quickly or they will continue to roast. Most home roasters blow cool air through the roasting chamber to do this.
Ease of cleaning
Roasting can be messy as chaff and smoke are released. Ideally a machine will have a chaff collection system for easy clean up and also smoke suppression systems so they can be used indoors.
Noise/ visibility levels
If you are wanting to make an art out of roasting you may want to look for a quieter machine so you can hear the first and second cracks and know exactly what stage your roast is at. Similarly you may want to opt for a machine that allows you to see the beans easily.
Best Home Coffee Roaster 2022
Kaldi Coffee Roaster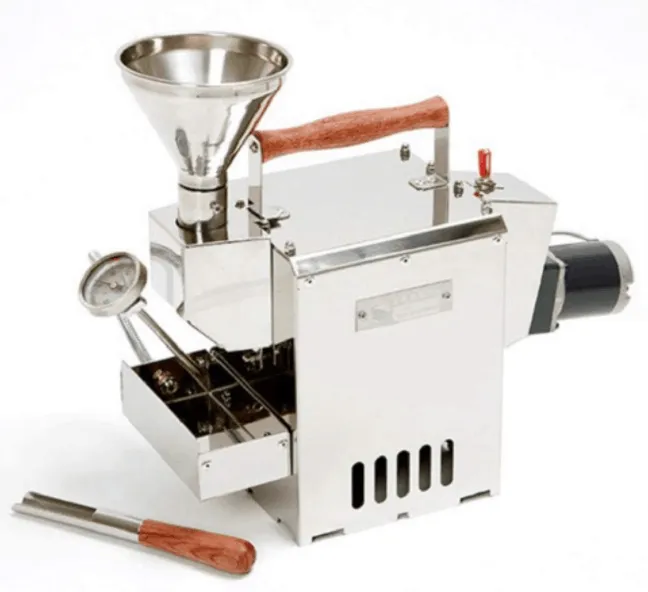 The Kaldi home coffee roaster is a Korean made drum roaster. The machine requires a separate gas burner to use as a heat source. It sits on top of the gas burner and once warmed up you pour your coffee beans through a funnel at the top. There is a temperature probe inserted into the rotating beans so you can gauge the bean temperature. It also has a sampler for you to see what stage the beans are at. This coffee bean roaster allows you to control the temperature and thus the roast time. It produces very high quality roasts and is ideal for the hipster wanting to master the art of roasting.
Nuvo Coffee Roaster
The Nuvo roaster is a korean-made hand roaster. You put your green beans in the chamber and hold it over a gas or electric stovetop. Once it heats up you shake it, listening for the first crack and when the beans reach your desired roast level you empty them through the hollow handle. A medium roast generally takes around 10-12 minutes. This is a simple and affordable roaster and would be a great step up from using a frypan or popcorn maker. If you are looking for an entry level home coffee roaster try the Nuvo coffee roaster.
Fresh Roast
The Fresh Roast is an air roaster that is very simple to use. It has 3 different temperature settings and a variable fan speed. You can also slightly alter the time it takes to roast allowing you to have some measure of control over your roast. It is capable of roasting up to 4 oz. of beans per batch. The machine itself is very compact and pretty quiet when in use, however due to the smell omitted when roasting it is recommended to use the machine outside or in a well ventilated area. This is an ideal machine for beginners as it is easy to use yet allows for some customization.
Behmor Plus Coffee Roaster
The Behmor Plus coffee roaster is all about consistency and a high quality of roast. This is a drum roaster capable of roasting up to 1 pound of beans per batch. It has 5 customizable roast profile settings and the ability to manually alter the temperature and drum speed. The machine features a smoke suppression system, cooling cycle and easy chaff removal for quick clean up. This home coffee roaster allows more control than your average roaster making it ideal for the coffee aficionado wanting to tweak each batch, however it is a little hard to get your hands on!
Nesco Coffee Roaster
The Nesco home coffee roaster is an air roaster with a powerful agitator which enables it to produce an even roast. It is a very durable and well-made coffee roasting machine that is easy to use. The machine features advanced smoke and odor control allowing you to roast inside. Roasting time is generally around 20 minutes. While it is a great machine it only allows you to vary your roasting time, not temperature or agitation speed. This is a good beginner machine for someone who is new to coffee roasting. However once again this roaster is often out of stock and a bit hard to get a hold of.
The Best Home Coffee Roaster
Our final verdict is that the Kaldi Home Coffee Roaster is the best home coffee roaster as it is capable of roasting large batches of beans, is able to be customized and will produce a high quality roast. The machine has a lot of the features we are looking for and looks amazing. All in all this is a great machine to learn to master the art of roasting on.
If you are looking for something a bit more affordable both the Fresh Roast and the Nuvo coffee roaster are good starting points.
Coffee Roasting Equipment
So now that you have decided on what roaster you are going to get, what other coffee roasting equipment would it be good to invest in?
Tips For Roasting Coffee Beans At Home
Happy Roasting!