Do you enjoy waking up to the smell of coffee every morning? Chances are if you have a coffee maker, you use ground coffee. While more and more coffee enthusiasts are switching to grinding their own beans, pre-ground coffee definitely still holds the majority position.
Maybe you have a favorite ground coffee, and maybe you don't, or perhaps you've never bought yourself ground coffee at all. Regardless, what's the best ground coffee brand out there?
We've researched many ground coffees on the market to bring you the best answers to that question.
Why Buy Ground Coffee?
So why would you buy ground coffee? When it comes down to it the main reason you would buy ground coffee is convenience. You can find ground coffee anywhere, and you can store it far more easily than beans. It also comes in many different brands and varieties, and all you need to do is put a scoop in your coffeemaker and turn it on.
It also means you don't have to buy a coffee grinder, which can add up especially if you are wanting to get a decent one, which you need to grind your beans evenly. Ground coffee can provide you with great coffee for reasonable prices, plus you'll save yourself a lot of time and energy.
The Downside of Ground Coffee
The downside of using pre-ground coffee is that you are sacrificing flavor. Ground coffee goes stale quickly; meaning that the oils containing all the delicious flavors and aromas of coffee evaporate and you are left with bad tasting coffee. The other drawback of pre-ground coffee is that it generally only comes in 2 grind sizes: Filter and Espresso which means that it may not suit your brewing method. The bottom line is that freshly roasted, freshly ground beans do simply provide the best tasting coffee, however we know that it is not always possible to be grinding your own beans.
The Best Ground Coffee 2022
So what's the best ground coffee out there? We've narrowed it down to our ten favorites based on coffee-drinkers' thoughts and reviews.
What You Should Consider When Buying Ground Coffee
Freshness
Keep in mind that buying and storing ground coffee involves more than simply putting it in the pantry with all your other non-perishables. First off, ground coffee is, in fact, perishable, and goes bad more quickly than whole coffee beans. You don't want to store it near "coffee-killers," like moisture, direct sunlight, or heat. You can buy special containers in which to keep your grounds, or you can store them in a place in your home away from all these things (easier said than done).
Also, try to avoid buying more than a week's worth of coffee at a time. Even in coffee storage containers, you run the risk of having your ground coffee lose its flavor if you store it for too long, and who likes flavorless coffee? Getting a
Type of Roast
Grind size
When choosing ground coffee it is important to ensure that you are getting the correct grind size. In general coffee grounds comes in either two or three different grind sizes depending on the company. Some offer fine, medium, or coarse grind sizes which is helpful while others offer often two grind sizes; espresso and filter. We have made a chart below that will help you in figuring out which is right for you.
So make sure you check that you are getting the correct grind size for your given coffee maker. If you really want to be precise on the grind sizes, however, you probably do need to transition to grinding your own beans. But we understand that that can be both expensive and off putting and hence this article!
Coffee Grind Size For Different Brewing Methods
If you have delved much into the world of coffee you will have come across the idea that coffee grind size is essential for optimal flavor. The general principle here is that the longer the coffee grinds and water are going to be in contact with each other, the coarser the grind needs to be. This is the reason that you tend to use quite a coarse grind for French Press or Cold Brew and a far finer Grind size for Espresso or Moka Pot.
Which of course begs the question, how do you know what the correct grind size is for your chosen coffee brewing method? And the answer is that it is a little complicated. And the reason that it is a little complicated is that there is no universal detailed system for communicating grind size. So for example, it would be great if I could tell you, for Aeropress go for grind size #3, For Espresso #1 and for French Press #8.
But unfortunately, there is no such system. Instead the coffee industry has opted for the generic descriptions of ground coffee such as extra fine, fine, medium, medium coarse, and coarse. So which is for which? Well it depends a little on the specific way you use your given coffee maker, but the following chart is a good place to start
Extra features
There are a few other things you can consider when deciding what is the best ground coffee brand to opt for…
What Is The Best Way To Store Ground Coffee?
Now that you have chosen the best coffee grounds make sure you store them correctly to ensure you keep them as fresh and flavorful as possible. Remember you need to avoid Oxygen, Moisture, Heat and Light. We have listed some tips for storing coffee below…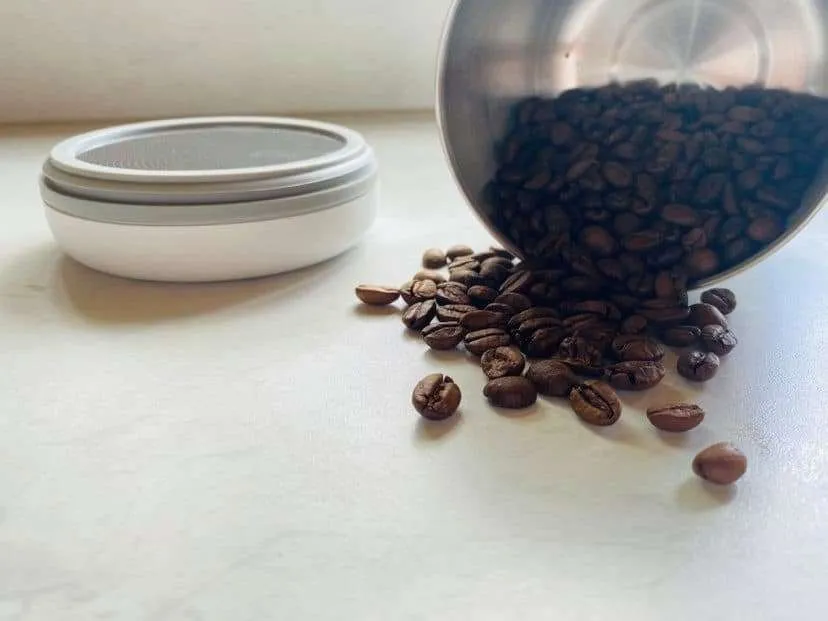 Best Ground Coffee- The Verdict
Most people get their morning jolt of caffeine from coffee. If you're picky about your coffee and still long for the convenience of ground coffee at home, you're in luck. You can get the best ground coffee available without giving up taste, aroma, or even your favorite cafe coffee.
If you are after freshly roasted coffee (which produces the best coffee grounds) we recommend you opt for one of the brands like Lifeboost, Volcanica or Koa Coffee, who produce high-quality ground coffee.
Make sure you store your ground coffee properly so it doesn't go bad. Other than that, enjoy your ground coffee at home and stop worrying about the time and cost of stopping for coffee on your way to work.
FAQs
Is ground coffee the same as instant Coffee?
No, ground coffee and instant coffee are not the same. Ground coffee is simply coffee beans that have been ground and need to be brewed. Ground coffee is usually produced using higher quality Arabica beans, and when brewed gives a rich, strong brew with delicious flavors and aromas.
Instant coffee on the other hand is coffee beans that have been ground and then brewed and dehydrated so that they can dissolve in water. Instant coffee is usually made from lower quality Robust beans and produces a weak, somewhat bitter brew.
Can you use pre-ground coffee for cold brew?
Cold brew coffee is made by leaving ground coffee to steep in cold water for an extended period of time (usually 12-24 hours). Because of the long brew time, you really need to use coarsely ground coffee, as fine grinds produce an over extracted brew, tasting bitter and harsh. In addition to this, with a coarser grind it is far easier to filter out the coffee grounds at the end, resulting in a lot smoother coffee.
If you are looking for a pre-ground coffee for cold brew it is better to opt for one that is ground to a coarse size, or get your local cafe or supermarket to grind it for you.
When does Ground Coffee Go Bad?
Ground coffee is best brewed within two weeks of roasting so you can enjoy the best flavors and aromas. However if you aren't that concerned about having fresh coffee, your ground coffee will last about 12 months in an unopened vacuum package.