Do you enjoy waking up to the smell of coffee every morning? Chances are if you have a coffee maker, you use ground coffee. While more and more coffee enthusiasts are switching to grinding their own beans, pre-ground coffee definitely still holds the majority position. 
Maybe you have a favorite ground coffee, and maybe you don't, or perhaps you've never bought yourself ground coffee at all. Regardless, what's the best ground coffee brand out there?
We've researched many ground coffees on the market to bring you the best answers to that question.
Why Buy Ground Coffee?
So why would you buy ground coffee? When it comes down to it the main reason you would buy ground coffee is convenience. You can find ground coffee anywhere, and you can store it far more easily than beans. It also comes in many different brands and varieties, and all you need to do is put a scoop in your coffeemaker and turn it on.
It also means you don't have to buy a coffee grinder, which can add up especially if you are wanting to get a decent one, which you need to grind your beans evenly. Ground coffee can provide you with great coffee for reasonable prices, plus you'll save yourself a lot of time and energy.
The Downside of Ground Coffee
The downside of using pre-ground coffee is that you are sacrificing flavor. Ground coffee goes stale quickly; meaning that the oils containing all the delicious flavors and aromas of coffee evaporate and you are left with bad tasting coffee. The other drawback of pre-ground coffee is that it generally only comes in 2 grind sizes: Filter and Espresso which means that it may not suit your brewing method. The bottom line is that freshly roasted, freshly ground beans do simply provide the best tasting coffee, however we know that it is not always possible to be grinding your own beans.
What You Should Consider When Buying Ground Coffee
Freshness
Keep in mind that buying and storing ground coffee involves more than simply putting it in the pantry with all your other non-perishables. First off, ground coffee is, in fact, perishable, and goes bad more quickly than whole beans. You don't want to store it near "coffee-killers," like moisture, direct sunlight, or heat. You can buy special containers in which to keep your grounds, or you can store them in a place in your home away from all these things (easier said than done).
Also, try to avoid buying more than a week's worth of coffee at a time. Even in coffee storage containers, you run the risk of having your ground coffee lose its flavor if you store it for too long, and who likes flavorless coffee? Getting a
Type of Roast
Grind size
When choosing ground coffee it is important to consider that you are getting the correct grind size. In general pre-ground coffee comes in either two or three different grind sizes depending on the company. Some offer fine, medium, or coarse grind sizes which is helpful while others offer often two grind sizes; espresso and filter. We have made a chart below that will help you in figuring out which is right for you.
So make sure you check that you are getting the correct grind size for your given coffee brewing method. If you really want to be precise on the grind sizes, however, you probably do need to transition to grinding your own beans. But we understand that that can be both expensive and off putting and hence this article!
Coffee Grind Size For Different Brewing Methods
If you have delved much into the world of coffee you will have come across the idea that coffee grind size is essential for optimal flavor. The general principle here is that the longer the coffee grinds and water are going to be in contact with each other, the coarser the grind needs to be. This is the reason that you tend to use quite a coarse grind for French Press or Cold Brew and a far finer Grind size for Espresso or Moka Pot.
Which of course begs the question, how do you know what the correct grind size is for your chosen coffee brewing method? And the answer is that it is a little complicated. And the reason that it is a little complicated is that there is no universal detailed system for communicating grind size. So for example, it would be great if I could tell you, for Aeropress go for grind size #3, For Espresso #1 and for French Press #8.
But unfortunately, there is no such system. Instead the coffee industry has opted for the generic descriptions of ground coffee such as extra fine, fine, medium, medium coarse, and coarse. So which is for which? Well it depends a little on the specific way you use your given coffee maker, but the following chart is a good place to start
Extra features
There are a few other things you can consider when deciding what is the best ground coffee brand to opt for…
The Best Ground Coffee 2021
So what's the best ground coffee out there? We've narrowed it down to our ten favorites based on coffee-drinkers' thoughts and reviews.
Lifeboost Ground Coffee
Lifeboost coffee is a premium organic coffee brand. Their coffee is a single origin coffee grown in the Nicaraguan Mountains. Lifeboost take great care when growing their coffee ensuring no pesticides, chemicals, GMOs or mycotoxins are present. All of their coffee is also fair trade certified ensuring the workers are getting paid and treated fairly.
The coffee itself has a mild, clean taste with no bitterness. It has hints of caramel and chocolate with a light, fruity flavor. Their coffee is naturally low in acid making it a gentle on the stomach. Lifeboost coffee is available in Light, Medium or Dark Roast. They also have a decaf option and a whole heap of flavored options.
If you are after a high quality, fresh, organic coffee give Lifeboost a go- you won't regret it!
Koa Coffee- Medium Roast Tri-Pack
Koa coffee is a well known brand that has gained much respect in the coffee world for producing high quality, award winning Kona coffee. Koa coffee is grown in Hawaii on the Kona coffee belt (one of the best coffee growing regions in the world). 
Koa coffee is 100% Kona coffee and has a unique taste. It is a very smooth and rich, full bodied coffee with a sweet, mellow taste and the hint of fruit. The coffee has no bitterness and low acidity. The Koa Tri-Pack consists of 8 ounce sample packs from three of their most popular flavors; the Grande Domaine, the Private Reserve, and the Estate.  It is a medium roasted coffee that is perfect for brewing with pour over or French press.
If you are looking to try some premium, 100% Kona coffee we highly recommend Koa Coffee. While Kona coffee is on the more expensive side, it is definitely worth trying!
Volcanica Coffee- Ethiopian Yirgacheffe coffee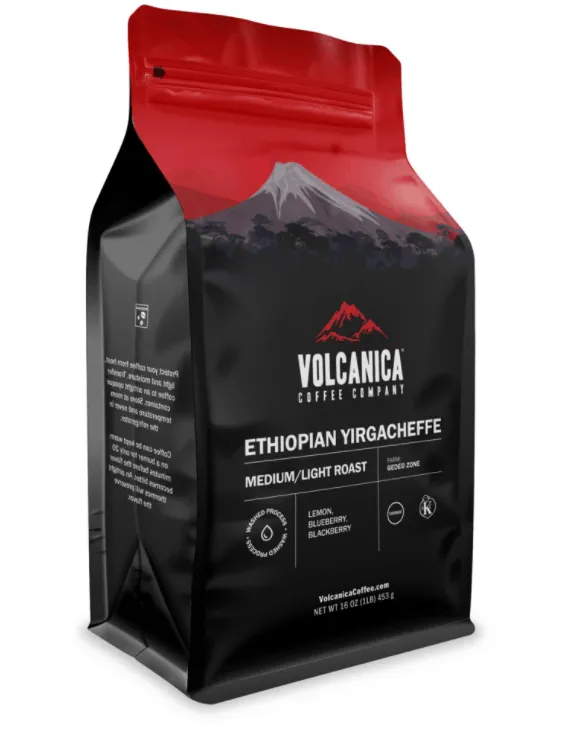 Volcanica's Ethiopian Yirgacheffe coffee is a unique coffee that is mainly harvested from wild coffee trees. It is grown in the Yirgacheffe region of southern Ethiopia which is well known for producing berry and floral toned coffees.
Volcanica's Ethiopian Yirgacheffe coffee is one of their best sellers. The coffee is a medium roast and has a sweet and complex flavor with hints of berry and lemon. Volcanica coffee is Fair trade certified and organic. Volcanica is also one of the few companies on this list that offers 3 different grind sizes: espresso, drip or french press.
Death Wish Coffee Co Ground Coffee
As the name suggests, this is certainly not a blend of coffee for the fainthearted! Death Wish Coffee reportedly has at least twice as much caffeine than a normal coffee and is all about an incredibly strong shot of coffee which shares similarities with a punch in the face. These beans are dark roasted and oily which makes for a very strong almost burnt flavor with hints of chocolate which many customers absolutely love. The coffee is entirely fair trade, organic, and even kosher.
In terms of brewing methods, this coffee particularly shines with both drip machines and French press although it can be used for other styles as well. Because it is dark roasted it really is for those who like their coffee very strong and are all about that morning hit. This is a great option for the coffee junkie.
Kicking Horse coffee Smart Ass blend
Kicking Horse Is a very popular coffee company on Amazon with a strong following of coffee lovers. They produce Fair Trade, organic, and kosher coffee. They have 6 different ground coffee varieties ranging from light to dark roasted. Their ground coffee is only available in one size- a 10 oz bag.
Their Smart Ass blend is a medium roasted coffee with a bright, chocolaty flavor profile. It has a sweet and fruity aroma. These beans work particularly well for drip machine, pour over, and cold brew. If you are wanting to switch out your run of the mill coffee for something a bit different give Kicking Horse a go!
Starbucks Medium Roast Ground Coffee – 100% Arabica
With Starbucks' insane popularity, it's no wonder people love using their ground coffee at home. This particular roast is lighter than others, plus, because this is a medium roast, you get the right balance of smooth and rich flavors.
Perhaps the best thing about this coffee's taste is that it's got a robust flavor with no bitter aftertaste. Furthermore, some people even use this particular roast in their espresso machines and love it. While that may not be to your taste, you know you'll get good, flavorful coffee with this roast.
Of course, it's a little on the expensive side, but it's Starbucks. They recommend you use no more than two tablespoons of grounds per six ounces of water. However, if you buy their 20-ounce bag, you'll get a good value.
Even if you have several people in your household who drink coffee and you have to buy more than one bag per week, you might discover the expense is well worth it to get your morning Starbucks fix without having to build time to stop at Starbucks into your daily commute.
It's also considerably cheaper than stopping at Starbucks every day, so in most cases, you'll save yourself quite a bit of money and still get great coffee.
New England Coffee Medium Roast
Depending on how much of a coffee connoisseur you are, and where you live, you might not have heard of New England Coffee. The brand is over 100 years old, though, so it has experience in spades when it comes to coffee. In fact, they "small-batch" their coffee roasts so you get consistent flavor every time.
New England Coffee comes in many different flavors, including blueberry cobbler, chocolate cappuccino, donut shop, butter pecan, french vanilla, pumpkin spice, and more. If you enjoy flavored coffee, as many people do, you'll love New England Coffee's selection.
New England Coffee is pretty comparable to Starbucks when it comes to cost. Plus, regardless of whether you have a regular drip coffee maker, a percolator, or a French Press, you'll get fantastic coffee regardless of the flavor you choose to buy.
It's also highly aromatic, so in addition to getting a great taste, you get a great aroma to enjoy, too. Whether you consider yourself a coffee snob or not, this is truly one of the best ground coffees you can buy for your home.
McCafé Premium Medium Roast Ground Coffee
Yes, this is McDonald's coffee. Don't dismiss it out of hand, though, because if people didn't enjoy McDonald's coffee to the degree that they do, it wouldn't be one of the best ground coffees you can buy for your home.
Buying ground coffee is all about convenience, and what's convenient about having to build time into your morning commute just for your coffee? Bringing McCafé's premium medium roast home so you can make your favorite coffee in the morning means you get all the convenience you need without sacrificing the taste and quality of McDonald's coffee.
McDonald's makes this coffee from 100% Arabica beans, and it's certified Kosher, plus it comes in a 24-ounce canister (although you can go as high as 30 ounces). That makes storage a little easier because you don't have an open bag to worry about. You might want to consider a sealed coffee canister anyway, but it's less of a worry here.
Even though it's pre-ground coffee, it has the same rich flavor as freshly ground coffee. McCafé premium roast gives you the flavor you want without the bitter or acidic aftertaste. It even works well for people whose stomachs get upset with other types of coffee.
Dunkin' Dark Roast Ground Coffee
Dunkin' Donuts coffee is so popular that the company overhauled its entire brand to reflect its focus on providing the best coffee at the best price as quickly as possible. In 2018, they revealed they were changing their name from the iconic "Dunkin' Donuts" to just "Dunkin'," to show that.
The best part is that you can buy their famous ground coffee for your personal coffeemaker. Dunkin's dark roast is one of their more popular roasts, featuring a rich, bold flavor you'll have trouble finding anywhere else. Plus, it's Dunkin', so it's hard not to include it on any best ground coffee list.
Dunkin' makes its ground coffee from 100% Arabica beans and roasts them for a full-bodied taste that isn't bitter or acidic. Even people who don't like American coffee like this coffee, with or without cream and sugar.
You can get a couple of different sizes of sealed bags at a reasonable price, although some people find it a little costlier than it needs to be. Regardless, you're getting your favorite Dunkin' ground coffee at home without sacrificing everything you love about their in-store coffee.
Folger's Classic Roast Medium Roast Ground Coffee
What? With all of the other fantastic ground coffees out there, especially those from places like Starbucks and Dunkin', Folger makes this list? Of course it does, because Folger's has been in the ground coffee business for a long time, so they know home coffee and make some of the best ground coffee.
You can buy an 11-ounce or 18.4-ounce brick of ground coffee for a comparable price to other brands. These are excellent for refilling your coffee canisters, but if you don't have a can, you can buy Folger's in a can for similar prices per ounce and then use the bricks to refill that. Either way, Folger's works to make your morning coffee as high-quality and convenient as possible.
You might consider Folger's to be "office coffee," which is often as cheap as possible, so it's also bitter and leaves a bad taste in your mouth. While it's true that many offices do use Folger's, it's fresh and tastes great, and works well for your office and your home.
It's also straightforward, basic coffee. You can add sugar and cream or drink it black, and you don't sacrifice anything. If specialty coffee isn't your thing, get Folger's.
What Is The Best Way To Store Ground Coffee?
Now that you have chosen the best ground coffee make sure you store it correctly to ensure you keep it as fresh and flavorful as possible. Remember you need to avoid Oxygen, Moisture, Heat and Light. We have listed some tips for storing coffee below…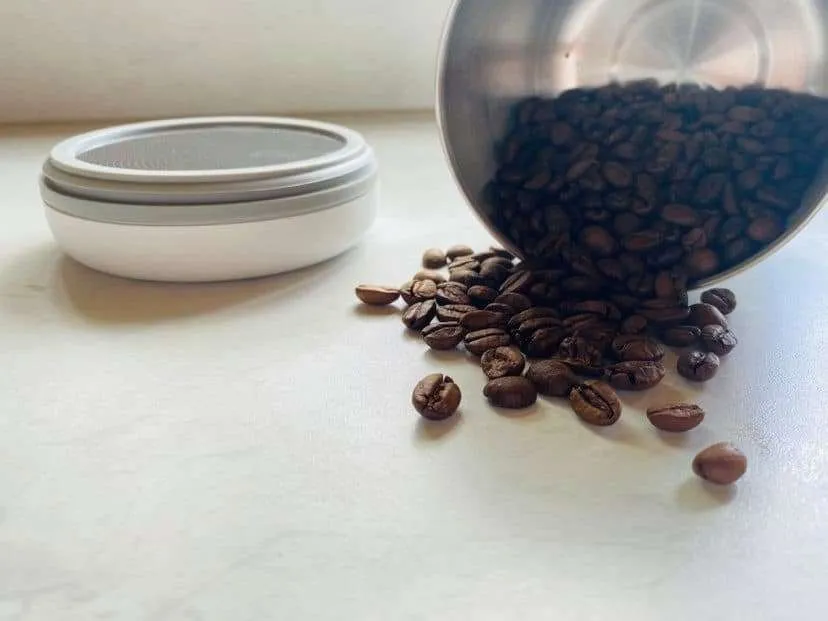 The Best Ground Coffee?
Most people get their morning jolt of caffeine from coffee. If you're picky about your coffee and still long for the convenience of ground coffee at home, you're in luck. You can get the best ground coffee available without giving up taste, aroma, or even your favorite cafe coffee.
If you are after freshly roasted coffee (which will produce the best tasting coffee) we recommend you opt for one of the brands like Lifeboost, Volcanica or Koa Coffee, who produce high quality ground coffee.
Make sure you store your ground coffee properly so it doesn't go bad. Other than that, enjoy your ground coffee at home and stop worrying about the time and cost of stopping for coffee on your way to work.
FAQs
Is ground coffee the same as instant
No, ground coffee is simply coffee beans that have been ground and need to be brewed. Ground coffee is usually produced using higher quality Arabica beans, and when brewed gives a rich, strong brew with delicious flavors and aromas.
Instant coffee on the other hand is coffee beans that have been ground and then brewed and dehydrated so that they can dissolve in water. Instant coffee is usually made from lower quality Robust beans and produces a weak, somewhat bitter brew.
Can you use pre-ground coffee for cold brew
Cold brew coffee is made by leaving ground coffee to steep in cold water for an extended period of time (usually 12-24 hours). Because of the long brew time, you really need to use coarsely ground coffee, as fine grinds produce an over extracted brew, tasting bitter and harsh. In addition to this, with a coarser grind it is far easier to filter out the coffee grounds at the end, resulting in a lot smoother coffee.
If you are looking for a pre-ground coffee for cold brew it is better to opt for one that is ground to a coarse size, or get your local cafe or supermarket to grind it for you.
When does Ground Coffee Go Bad
Ground coffee is best brewed within two weeks of roasting so you can enjoy the best flavors and aromas. However if you aren't that concerned about having fresh coffee, your ground coffee will last about 12 months in an unopened vacuum package.