A gooseneck kettle is now widely recognized as a staple part of a pour over coffee kit. Pour Over coffee has only relatively recently exploded into the global coffee scene with the so called Third Wave of Coffee. What many coffee lovers (including ourselves) have come to love about pour over coffee is the intimate involvement the home brewer has in every step of this brewing method.
However, because the extraction process is so involved it does require a level of precision and attention to detail that many others brewing methods don't. If you are just beginning your journey into Pour Over check out our complete guide here.
And that is why you find yourself now reading an article on the best gooseneck kettle of 2021. Because although a gooseneck kettle isn't strictly required for pour over, it does play a huge part in producing the precision needed to make that delicious cup of brew.
Best Gooseneck Kettle: Fellow Stagg EKG Pour over Kettle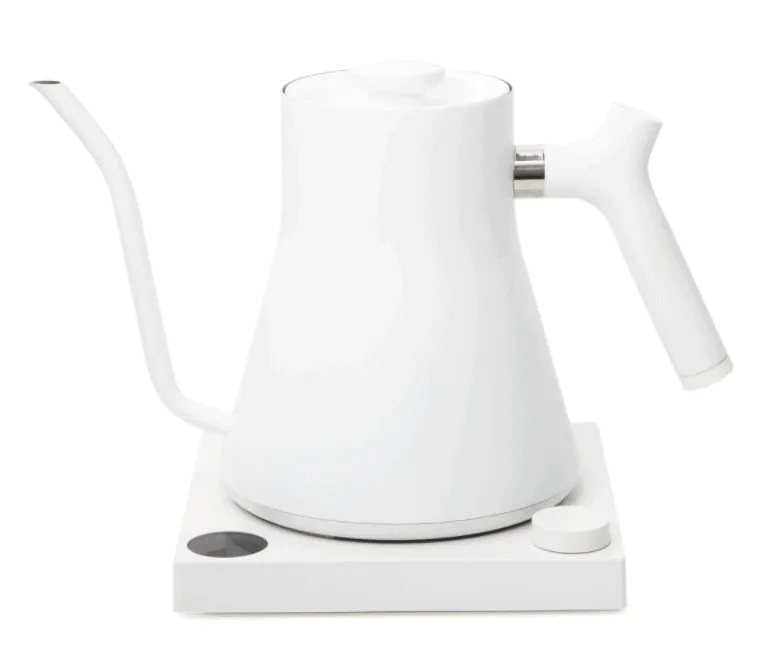 In this article we are going to recommend that the Fellow Stagg EKG electric pour over kettle is the best gooseneck kettle for the home brewer. While it doesn't come cheap, the Fellow Stagg kettle really is the last gooseneck kettle you will need. It comes with a vast array of helpful extra features, pours well, and is the picture of elegance.

Why You Should Consider Buying A Gooseneck Kettle
The fact that your favorite barista at your local café uses a gooseneck kettle is not simply that they look hipster and cool (although they totally do!). Instead it is because a gooseneck kettle provides precision and control which is hugely important for this brewing method. The best gooseneck kettle will give control over two key aspects of the pour over brewing method:
Factors To Consider In Finding The Best Gooseneck Kettle
Like virtually any corner of the coffee world, the range of different gooseneck kettles available is huge and flat daunting. The following factors are our way of trying to help you navigate towards the best gooseneck kettle for you.
Electric Gooseneck Kettle vs Manual Gooseneck Kettle
The first decision to make is manual vs electric. This particularly comes down to convenience and budget. An electric gooseneck kettle is incredibly convenient and requires no more than the flick of a switch in that groggy state of existence which is called waking up. Furthermore, many of the electric gooseneck kettles available today can not only heat your water but heat it to a specific temperature, hold that temperature for up to an hour, time your pour, and even connect via Bluetooth to your smartphone. For these reasons we have recently upgraded from a manual gooseneck kettle to the Fellow Stagg EKG Electric Kettle. It simply is so convenient to not need to heat the water in an electric kettle before transferring it to a gooseneck kettle. This also involves heat loss which is less than ideal.
The downside to an electric gooseneck kettle is that they do tend to be more pricey and less portable than manual gooseneck kettles. A manual pour over kettle tends to be sturdier which means they are great for travel and you could even bring one of these on your hiking/ camping trip.
Flow Rate of Gooseneck Kettle
The single most important consideration in choosing a gooseneck kettle is how much control it will give you over the pouring process. As the shape of the spout suggests, these kettles allow for a slower pouring rate than usual electric kettles. However, speed is actually far less important that consistency of flow. As noted above the key is an even saturation of the grounds bed. A consistent flow rate allows both development of pouring technique as well as an even and uniform extraction. Another helpful tip is to try and find a gooseneck kettle where the spout is attached near the bottom of the kettle. This will allow you to most easily and comfortably pour the maximum amount of water.
Material and Design
Almost all of the gooseneck kettles reviewed in this article are made of high quality stainless steel. This is important as probably the biggest threat to any sort of metal kettle is rust. So be careful if you do decide to purchase a cheaper and less well known gooseneck kettle that the metal is of a high quality.
The design is also important to consider. The pour over method requires a meticulous technique and so you will frequently be holding this kettle at an angle for minutes at a time. So comfort and ease of use do play an important role. Handles that are positioned on an angle tend to be most conducive to a stable and consistent pour. The Fellow Stagg EKG kettle particularly comes into its own here with comfortable counterbalanced handles to aid in a uniform pour.
Also, as long it has good flow rate, don't feel guilty for picking a gooseneck kettle that you simply like the look of. Any stainless steel kettle is an investment so pick one that you know you will come to love!
Extra Features
Among gooseneck kettles there is a huge range of non-essential but extremely helpful features to aid and enhance the pour over experience. Some kettles such as the Coffee Gator and the Fellow Stagg kettle come with inbuilt thermometers. This is particularly helpful in regulating the water temperature for recipes that require precise parameters.
Other features include the variable temperature control, Bluetooth capability, and holding temperature function on some of the electric models. None of these features are essential for brewing great pour over but they do make life easier if you have the money to spare.
Best Manual Gooseneck Kettle 2021
Coffee Gator Pour Over Kettle
The Coffee Gator pour over kettle looks great, pours great, and is made out of high quality metal that will last. Some of the greatest features of this gooseneck kettle include an inbuilt probe thermometer with a green area marking the extraction sweet spot of 195-205F, a slender gooseneck that gives excellent control over flow rate, and military grade stainless steel for longevity and use on all stovetops.
This great gooseneck kettle is the only one we are aware of that has what is called a triple layered base. What this means is that the kettle has a layer of stainless steel, then a layer of aluminum, then another layer of stainless steel. The aim of this is that the aluminum never comes into contact with water and so cannot rust. Coffee Gator also offers a strong 100% money back guarantee which suggests their confidence in their product.
Hario V60 Gooseneck Kettle
The Hario v60 Gooseneck Kettle really is the original 'gooseneck' kettle which has a long track record of quality and flow control. This is a large pour over kettle at 1.2L which is particularly helpful for larger batches such as the Chemex often use. There is some debate over exactly where the flow rate sits in comparison to other kettles. The Hario gooseneck kettle does tend to have a faster flow rate than some which can take a while to adjust to, but many baristas still name this as one of their favorite gooseneck kettles which certainly says something.
The Hario is also a lighter coffee kettle which makes it great for traveling but perhaps not quite as sturdy as some other models.
The Kalita Wave Kettle
The Kalita Wave Kettle is an elegant gooseneck kettle shares the distinctive design and quality that Kalita has become well-known for. The Kalita kettle is distinct from many of the other kettles on this list on account of its relatively thick spout. This means that it tends to have a quicker flow rate which can take some time to master. However, the same width and shape of the spout makes for a very even and steady flow. The pinched end of the spout also contributes to excellent control of water placement making this one of the best kettles for flow rate on the market.
This is actually the coffee kettle that used for years and have only recently upgraded from. We have found it to be an excellent gooseneck kettle with superb control. The only reason that we upgraded is the annoyance of having to heat the water in an electric kettle before transferring it to the Kalita.
There are a few downsides to this elegant stainless steel kettle. While the vertical wooden handle of the Kalita looks great, it is relatively uncomfortable to pour with and can get quite hot if heated on a stovetop. Also if you do purchase one, clean with care! The shiny stainless steel can scratch easily if cleaned with something too rough. Again, this is the gooseneck kettle we have owned and used and found it to be a superb kettle!
Best Electric Gooseneck Kettle 2021
Fellow Stagg EKG Electric Kettle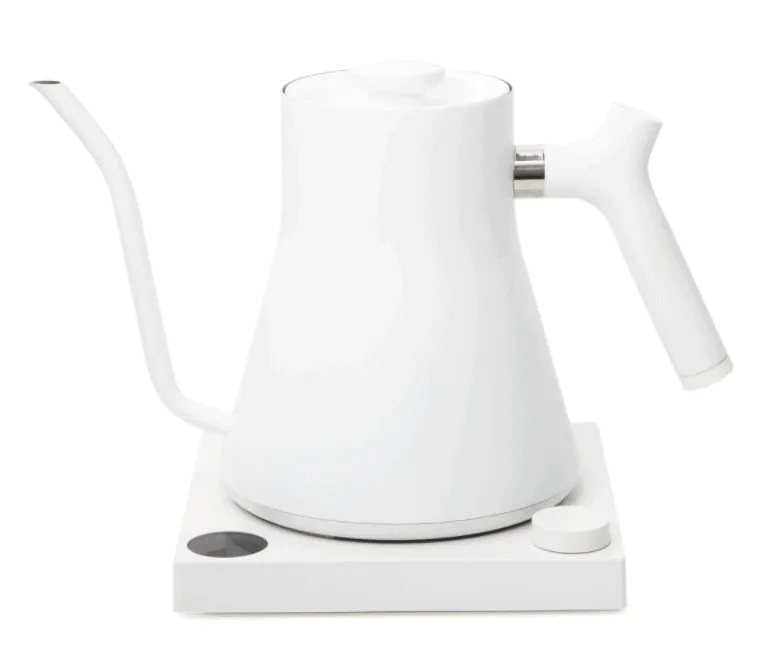 The Fellow Stagg EKG Electric Kettle is like the Lamborghini of gooseneck kettles. It looks terrific, works terrific, but doesn't come cheap! The Fellow Stagg EKG Electric Kettle boasts an impressive list of great features. These include variable temperature control, a temperature holding function, a counterbalanced and comfortable handle, a timing function, and an LCD screen which constantly tells you the current and desired temperatures of the water. This makes for a sophisticated solution to the need for precision in the pour over process if you can afford the cost!
The flow rate of the Fellow Stagg kettle is a bit slower than some of the other gooseneck kettles on this list which may be a pro or con depending on the size of grinds bed you are working with. The Fellow Stagg EKG Electric Kettle is also surprisingly easy to use considering its host of features. In fact, we have been so impressed with the features and general reputation of the Fellow Stagg kettle that we have just purchased one for pour over. This is a gooseneck kettle regularly used in cafe's which is about the mixture between elegance and functionality. It really is the be all and end all of electric kettles.
The Stagg kettle is available in black, white or pink with the option of wooden trimmings. It boasts a 1200W heating element and the variable temperature control is PID controlled for exact precision. It is also 0.9L in capacity which doesn't sound like much but really is an ideal size for a pour over kettle. For all these reasons we really do believe that the Fellow Stagg EKG electric kettle is the best gooseneck kettle as of 2021. See our full review here.
Brewista Smart Pour Variable Temperature Kettle
If convenience and precision rate high on your preferences then the Brewista kettle is a serious contender. This electric gooseneck kettle is loaded with great features that might just make your coffee that much better and your brewing experience that much more enjoyable. Probably the most significant feature of the Brewista kettle is the built in temperature control which will allow you to set the water temperature to say 196F and then hold it there for up to an hour! This is a great feature for the experienced pour over brewer who is experimenting with specific parameters. It is also just really convenient.
The Brewista is known to have a great gooseneck spout which translates into excellent flow rate control. And as if this wasn't enough, the Brewista kettle also has a 60 minute automatic turn off safety feature. It is also worth noting that one of the top cafes in Melbourne (which I happen to love!) has chosen to go with the Brewista kettle which again says something. A great option for the serious home barista.
Bonavita Electric Gooseneck Kettle
The Bonavita gooseneck kettle is again a tried and true option. It comes with a 1000W electric element for quick and convenient heating of water. Like the Brewista, the Bonavita kettle is known to have great flow rate control which comes from a slender gooseneck spout. In fact, the Bonavita kettle is widely thought to be the best electric gooseneck kettle for the careful pouring technique needed for Chemex pour overs. The construction is relatively lightweight with a lot of plastic and so isn't as sturdy as some others on this list. The Bonavita kettle is all about affordable convenience; quick heating of water and excellent pouring capability, without breaking the budget!
Willow and Everett Electric Gooseneck Kettle
The Willow and Everett contribution to the gooseneck kettle scene is all about affordability and functionality. Like the Bonavita kettle, the Willow and Everett boasts a 1000W burner which heats quickly and efficiently. Another great feature it boasts is a spill-proof lid so that there is no possibility of the lid falling of when pouring or leaking water when held at an angle.
In terms of flow rate this coffee kettle is okay. It is not one of the top contenders but for the price tag it is pretty good. And we have to say that the almost mirror look of the stainless steel kettle does look rather nice.
The Verdict- The Best Gooseneck Kettle
After reviewing a wide range of kettles, we believe that the best gooseneck kettle in 2021 is the Fellow Stagg EKG Electric Kettle. This electric gooseneck kettle is stacked with helpful features, has variable temperature control, and just excels in both aesthetic appeal and functionality. If you can afford it, you won't regret it.
Alternatively, if you are looking for a cheaper option we would recommend the Coffee Gator Pour Over Kettle as a solid option. It is a well made stainless steel kettle that is affordable without compromising on quality.
Happy Buying!