If you are short on space, a 4-cup coffee maker may be just the thing for you.These compact drip coffee makers are just the thing to pull out for special occasions
We have compiled a list of the best 4-cup coffee makers to help you in your journey towards producing the perfect cup of coffee.
Why Buy A Small Coffee Maker?
A 4-cup coffee maker is a good entry into the world of coffee. They are a good option if you are looking for a coffee maker to cater to a small household or simply the coffee lover who is not content with a single cup! A small coffee maker is quick and convenient to use and produces a decent cup of Joe. A prime example would be something like the Smeg coffee maker.
You will also find they are relatively compact, so can easily be stored away when not in use. You will find the coffee makers at this level are pretty basic. Often they will come with some sort of timer and auto-off function but very little other bells and whistles. If you are a coffee connoisseur you would be better to opt for a larger coffee maker like the Moccamaster or Breville Precision Brewer which are some of the best drip coffee makers on the market.
Buying Guide
We have put together a list of a few things to consider before deciding on what would be the best 4 cup coffee maker.
Brewing Temperature
The first and most important thing to consider is the brewing temperature of the coffee maker. The ideal brewing temperature is between 195F and 205F. If your coffee maker is unable to brew coffee in this range then there really isn't much point buying it, as the coffee produced will be undrinkable. If the coffee is brewed at a temperature higher than 205F you will find it will be burnt. Conversely if the coffee is brewed at a temperature lower than 195F it will be under extracted and will taste sour.
Brewing Speed
The second thing to consider is how long it will take for your coffee maker to brew a pot of coffee. Ideally you want a coffee maker that won't take too long to brew a pot, for convenience sake. A lot of coffee makers also come with a pause brew option so you can grab a cup before it's finished brewing the whole pot full. The brew speed also affects the quality of coffee produced. NCAUSA recommends a brew time of 5 minutes for drip or filter coffee. If the brew time is too short the coffee will be under-extracted and taste sour. Or if it is too long it will be over extracted and taste bitter.
Timer
Some of the coffee makers at this level come with a timer you can set for the machine to make coffee automatically. This means you can enjoy that fresh pot of coffee when the alarm clock goes off.
Carafe
Consider what type of carafe the coffee maker comes with. There are generally 3 options: stainless steel, plastic, or glass. Stainless steel is probably the best option, with most thermal carafes being made of this. It has a nice finish and is very sturdy. Plastic is a cheaper option that is still pretty durable but does not have the best aesthetics and can also confer some unpleasant flavors to your brew. Glass is another popular option as it doesn't detract from the brew. Glass is easy to clean and allows you to see the coffee brewing, however it is fragile and doesn't keep the coffee warm for long.
Best 4-Cup Coffee Maker 2022
Bonavita 5-Cup Coffee Maker
Best Small Coffee Maker
While not strictly a 4-cup coffee maker the Bonavita is our pick as the best small coffee maker. This coffee maker ticks all the boxes when it comes to brewing a great cup of coffee and is popular among the specialty coffee crowds. It features a showerhead which disperses a steady and consistent pour of water over the grounds. The water is heated to around 200-203F and remains at that temperature throughout the brewing process.
It also has a pre-infusion function which saturates the ground coffee and allows it to degas before brewing. The coffee maker comes with a stainless steel carafe which, while sufficient, has been reported to not be all that good at keeping the coffee hot, and is also difficult to pour from. Overall, the Bonavita coffee maker is a great option that looks great, and is made by a well known and respected brand. Bonavita's big brother (the 8-cup coffee maker) is also certified by the SCAA.
Cuisinart 4-Cup Coffee Maker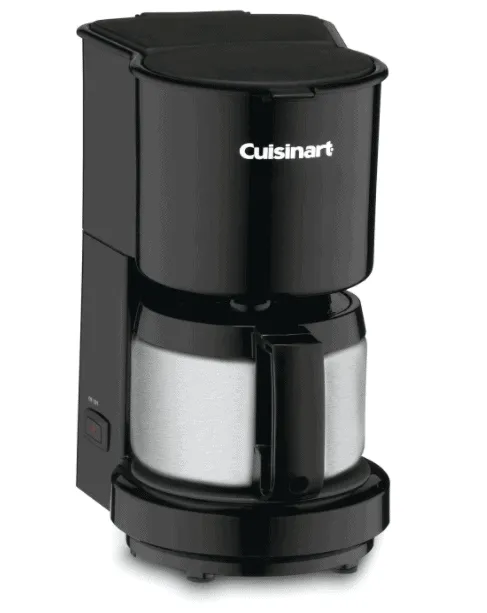 If you are looking for a small and basic coffee maker then the Cuisinart 4-cup coffee maker may just be for you! It comes with a stainless steel carafe fit out with a knuckle guard – as it does get hot! This really is a very simple coffee maker with the only extra feature being a brew pause capability so you can grab a cup before its finished brewing. Other than that it has a 30 minute auto shut off feature and that's about it! It's compact size makes it a good option if you are looking for a coffee maker for an RV. Overall this is a sturdy, simple and reliable coffee maker at a very affordable price.
Zojirushi Zutto 5-Cup Coffee Maker
The Zojirushi Zutto is a nice looking coffee maker with a sleek and simple design. The main differentiation between this and the other coffee makers is that the Zojirushi comes with a built in charcoal water filter to help improve the taste of the coffee. The filter lasts for up to 2 years with regular use. It also comes with a glass carafe and an automatic keep warm function. On the downside the Zojirushi Zutto has no programmability and is mostly made of plastic. Overall though, this is a stylish and thoughtfully designed coffee maker.
Mr Coffee 4-Cup Coffee Maker
No list would be complete without a mention of a Mr Coffee Coffee maker! This is really the go to if you are looking for a budget coffee maker. While basic it does everything you need it to. It has a pause brew function so you can grab a cup mid-brew. It comes with a glass carafe and a removable filter basket for easy cleaning. Overall this is a classic coffee maker that is compact and affordable.
Black + Decker Coffee Maker
This coffee maker has a simple, no-nonsense design that's easy to use for coffee enthusiasts of all skill levels. It comes with a 5-cup glass carafe that sits on a hot plate that can keep your coffee warm for up to an hour after brewing. The coffee maker also has a handy sneak-a-cup feature where you can pause brewing to pour yourself a cup of fresh coffee rather than wait for it to brew a whole pot full.
The Black and Decker coffee maker also features a water window with markings of how much water to fill it for each cup size. This is great if you are just wanting to make a couple of cups of coffee rather than the full 5 cup capacity. When it comes to the quality of the coffee produced, there are some reports of it being rather weak. This is because of the design of the coffee maker, where the water runs quickly through the coffee grounds. Overall this is a great option if you are looking for a compact, affordable coffee maker that is convenient to use and can cater to larger groups.
The Best 4-Cup Coffee Maker?
Well after reviewing the best 4 cup coffee makers our final verdict is that it is actually a 5-cup coffee maker that wins the day! The Bonavita Coffee Maker is our top pick as the best small coffee maker. Overall this is a well made coffee maker by a reliable brand that is known to produce good tasting coffee. At this price range, you will find most of the coffee makers are relatively budget and limited in programmability. If you are a coffee connoisseur we would recommend investing in a larger coffee maker that has been recommended by the SCAA. However if you are just starting your coffee journey, the Bonavita is a great buy.
Keep an eye out over the next week as there are some excellent Prime Day Coffee Maker deals around.
FAQS
what Features Should The Best 4-Cup Coffee Maker Have?
The main features you should be looking for in the best 4-cup coffee maker is the ability to brew coffee between 195-205F (the ideal brewing temperature). The coffee maker should also have a brew time of around 5 minutes to ensure ideal extraction. These are the 2 most important factors that are going to contribute to getting the best tasting cup of coffee. Other factors such as the addition of a water filter, programmability, and the coffee carafe are less important.
How Do I Make The Best Coffee With A 4-Cup Coffee Maker?
When it comes to making good tasting coffee with your 4-cup coffee maker the 2 most important things are the 2 ingredients in your coffee… the coffee and the water!
As coffee is 98% water, make sure you use filtered water, or use a coffee maker with a built in water filter like the Zojirushi Zutto.
Secondly make sure you use high quality coffee beans that are freshly roasted. The taste of your coffee will never exceed the quality of the beans used. So buy good quality beans and grind them on demand. Coffee goes stale within minutes of grinding, so don't use pre-ground beans!
How Much Coffee Do You Use In a 4-Cup Coffee Maker?
When it comes to brewing coffee the SCA has a Golden Ratio which recommends using 55g of coffee to every 1L of water used + 10% (basically a 1:18 ratio).
This comes down to about 2 tablespoons of ground coffee for every 8 oz. of water (cup of water).
However, when it comes to brewing coffee in a coffee pot you will find that a coffee pot cup is actually 5 oz. rather than 8 oz.
So for a 4-cup coffee maker the recommended recipe is 20 oz. of water + 5 Tablespoons of coffee.
Of course this is subjective so you can adjust as necessary depending on how strong or weak you like your brew!
How Do I Clean A 4-Cup Coffee Maker?
To do a deep clean of a coffee maker follow these instructions:
Fill the water reservoir with equal parts of water and vinegar (you can add a higher portion of vinegar if required)
Put a filter in the filter basket and turn the brewer on. Half way through brewing, stop it and allow the carafe and reservoir to soak in the solution for 30-60 minutes.
After this time, turn the coffee maker back on and allow it to finish its brew cycle. Once complete, discard the vinegar solution in the reservoir and carafe, and chuck out the paper filter. Fill the reservoir with clean water and insert a new paper filter then run through a brewing cycle 1-2 more times to flush the coffee maker with clean water.
Clean the carafe with hot soapy water at the end and wipe the outside of the coffee maker down with a clean cloth.